CW Low-Moded Laser is designed for thin material spot welding.
Press Release Summary: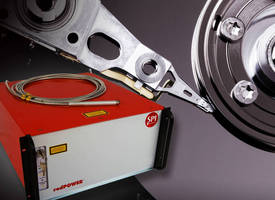 Used when welding thin materials or where it is preferred that weld is not visible from back, Low-moded 200 W laser evenly spreads energy over area to remove high intensity peak. Beam is tailored to suit application with appropriate degree of intensity and mode stability, resulting in profile that avoids cratering or break throughs in spot weld. CW or up to 100 kHz modulation capability can create sub 10 µsec pulses, and power output variation is less than 1%.
---
Original Press Release:

SPI Lasers Announces New Low-Moded Welding Laser



Southampton, UK, SPI Lasers, a leading designer and manufacturer of fibre lasers announces the launch of a new CW low-moded laser specially designed for thin material spot welding. The laser will be launched at LASER World of Photonics China, Shanghai, on the 19th March 2013.



Single Moded lasers with high intensity Gaussian beams produce exceptional penetration, this is not always desirable. When welding thin materials or where it is preferred that the weld is not visible from the back then the new Low-moded 200W laser has proven to be an excellent solution. The energy is evenly spread over a wider area, this removes the high intensity peak inherent in Single Mode beams.



For this laser SPI has tailored the beam (M2 ~ 4/ BPP ≤ 1.4mm.rad) to suit the application with the right degree of intensity and mode stability delivering the perfect profile to avoid cratering or break throughs in the spot weld.



With CW or modulated (up to 100kHz) modulation capability creating sub 10us pulses, and class leading power output variation of <1% the laser provides a solution in micro-welding across a range of applications include smart phones, battery contacts, medical devices and fine connectors.



Stuart McCuloch, Medium Power Product Manager for SPI Lasers says "Beam tailoring has become a standard feature of SPI's pulsed lasers for marking and micro-machining and now in 2013 SPI have moved onto the CW medium power product set. The capability to provide such specific moded lasers is enabled only by laser companies capable of designing and drawing their own fibre, of which SPI is one of the few world-wide."



For more information on SPI Lasers visit our website www.spilasers.com. Alternatively come and visit us at the Laser World of Photonics China, Hall W3, Stand 3322.



About SPI Lasers

SPI Lasers, a wholly owned subsidiary of the TRUMPF Group, is a leading designer and manufacturer of optical fiber-based lasers for use in materials processing applications in a wide range of industries. Our technology solves manufacturing problems; it moves the boundaries of what is possible, making good products better and enabling new designs. Headquartered in Southampton, United Kingdom, SPI Lasers has been operating since 2000 and was admitted to AIM on 26 October 2005. SPI Lasers sells its products globally, and has its major business operations, including research and development, and manufacturing, in the United Kingdom, with additional sales and customer support locations in Asia and North America. For more information please visit www.spilasers.com or for information on TRUMPF www.trumpf.com



Zoe Knill

SPI Lasers

Corporate Press and Public Relations

Phone +44 (0)1489 779667

Zoe.knill@spilasers.com

Related