Cutting Tools for Acrylic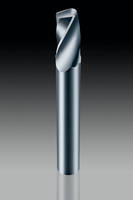 Onsrud Cutter LP, the leading supplier of CNC router tooling, has introduced a line of cutting tools designed for acrylic sheet materials.

The 63-500 series of solid carbide spiral "O" flute tools will produce a superior edge finish on either cast or extruded acrylic plastic. This is especially important in plastic products such as exhibits, signs or P-O-P displays where the public constantly views the finished edge of the product.

Onsrud Cutter is the only cutting tool facility in the United States that manufactures high-speed steel, carbide tipped, solid carbide, diamond coated and PCD CNC tooling. Onsrud manufactured their first router bit in 1920. For further information contact Onsrud Cutter LP, 847-362-1560, www.onsrud.com.


More from Communication Systems & Equipment