Cutting Pliers are offered with slip-resistant handles.
Press Release Summary: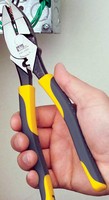 WireMan(TM) pliers are available with ergonomic SmartGrip(TM) handles to eliminate fatigue placed on fingers, wrist, and forearm during operation. Handles consist of hardened Santoprene® layer that promotes comfort with curved form factor, and soft/textured Santoprene layer that promotes grip even when wet. While knife-to-knife precision blades provide control and strength when cutting various wire types, cross-hatched jaws prevent slippage while pulling even heavily lubed wires.
---
Original Press Release:

IDEAL Applies Innovative SmartGrip Handles to Classic Wireman Cutting Pliers



SYCAMORE, IL, May 1, 2007 - In another first, IDEAL today announced it has enhanced its classic WireMan(TM) Cutting Pliers to feature the company's patented SmartGrip(TM) ergonomic, slip-resistant handle, resulting in improved tool safety, productivity and comfort for the professional electrician.

"On the jobsite, eighty percent of the cutting electricians do is on copper wire, so it's essential that the pliers they use doesn't cause repetitive motion injuries," explained Bruce Hartranft, Business Unit Manager, IDEAL INDUSTRIES, INC. "To address this need we've combined the outstanding legacy features of our time-proven IDEAL WireMan pliers with SmartGrip handles to create the highest performing, most comfortable-to-use pliers on the market."

Re-engineered WireMan pliers features sharp, knife-to-knife precision blades that provide control and strength when cutting a variety of wire types. Crosshatched jaws prevent slippage even while pulling heavily lubed wires, and a built-in crimp die and fishtape puller adds multi-functional value and convenience. Premium quality tool steel extends service life.

THE SMARTGRIP(TM) ADVANTAGE
Deemed one of the most important ergonomic innovations in IDEAL hand tool history, SmartGrip eliminates the fatigue that conventional tools place on the user's fingers, wrist and forearm. Over molded on the tool's handles, SmartGrip consists of two tiers of Santoprene®. The first tier is a hardened formula that enhances comfort with its curved form factor and improves the life of the tool with its outstanding durability. The second tier of Santroprene is soft and textured, providing a sure grip even when wet. Santoprene has proven to be effective in wicking away perspiration, as well as resisting oils, hydraulic fluids, and workshop abrasion.

Like all SmartGrip tools, the Wireman's handles have been color coded for easier identification inside a crowded tool pouch, plus feature FastFinder(TM) letter identification on the inside of the handles for quick identification, even by touch.

For those electricians who prefer the original dipped grip for their pliers, IDEAL will continue to offer WireMan models in that design.

For more information, contact IDEAL INDUSTRIES, INC., Becker Place, Sycamore, Illinois 60178. Or phone 1-800-435-0705, Fax: 1-800-533-4483. On the web, www.idealindustries.com.

ABOUT IDEAL INDUSTRIES, INC.
IDEAL INDUSTRIES, INC. has been serving the electrical industry since 1916. IDEAL is one of the world's leading manufacturers of professional quality tools and supplies serving installation professionals in the construction, maintenance, data communications and original equipment manufacturing industries.

©2007 IDEAL INDUSTRIES, INC. All rights reserved. All products and names mentioned are the property of their respective owners. While IDEAL has made every effort at the time of publication to ensure the accuracy of the information provided herein, product specifications, configurations, prices, system/component/options availability are all subject to change without notice.

More from Electrical Equipment & Systems