Cutting Machine automates positioning, compound mitering.
Press Release Summary: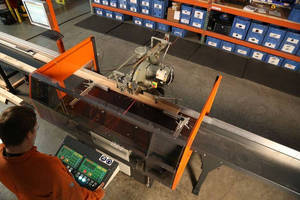 Offering automated material length positioning and compound mitering, TigerAngle serves applications requiring high-volume horizontal and vertical angle cutting. It can be used as stop in set point operation or used as push feed operation. Miter saw with TigerStop drives offers accurate automated miter adjustments, while Beamworks Software further facilitates compound miter cutting. Laser guide, automated safety hood, material clamping system, and extended pusher foot are standard features.
---
Original Press Release:

New Product from TigerStop Automates the Compound Mitering Process with Ease



TigerAngle Has Corners Covered



Vancouver, WA – Cutting angles, especially compound angles, is no one's favorite job. Manufacturers using crosscut applications are manually setting stops and setting angles, checking and rechecking, miscutting and then doing it all over again. Down the drain goes time, materials and profits. TigerStop's newest addition eliminates setup, eliminates test cuts and parts, and adds true dynamic optimization to the manufacturing process. Now manufacturers are saving time, material and space in the scrap box. Enjoy fast and accurate results with TigerStop, every time.



TigerStop brings to market the TigerAngle. This revolutionary system delivers automated material length positioning and compound mitering. TigerAngle is equipped for any application where high volume horizontal and vertical angle cutting is required. Whether manufacturing windows and doors, timber processing, framing, palleting, manufacturing aluminum sun screens and door frames, pumping out PVC or even specialize within the metal industries – TigerAngle will speed production processes up to 75% depending on the application.



Developed by TigerStop, the industry leader in automated stop/gauge and pusher systems, no aspect has been overlooked. Safety, material optimization, efficiency, productivity, improved yield and less waste have all been considered in the development of TigerAngle. No need to be afraid, TigerAngle uses all the same easy to use controls that you would find on all of TigerStop's industrial products.



TigerAngle is completely integrated by TigerStop and is equipped with the tried and true TigerStop automated length positioning system. This allows the TigerAngle to be used solely as a stop in a set point operation, or used as a push feed operation. Not only is the material positioning fully automated with a TigerStop, even the miter saw has been retrofitted with TigerStop drives for seamless and accurate automated miter adjustments. No need to hassle with manually adjusting the saw to the proper miter angles and setting stops on this machine.



Now, let us take a closer look at just what this machine is capable of doing:



• TigerStop's Beamworks Software was developed specifically for TigerAngle, taking the headache out of compound miter cutting optimization. The operator can create or download cut lists directly to the computer, receive operator feedback with visual representations of materials and store repeat jobs. Beamworks is compatible with many other woodworking software programs, allowing for even more customization. Material optimization in today's manufacturing environment doesn't just make sense, it is essential to sustaining a profitable business.



• TigerStop is constantly striving to exceed safety expectations. With the newly developed and fully automated Safety Hood, manufacturers can rest assured their employees can get the job done quickly without the lingering concern of their safety.



• The Material Clamping System grips material to ensure manufacturers are getting the accuracy they expect from a TigerStop system.



• TigerStop has integrated their Extended Pusher Foot for reaching far into the hood to obtain even the smallest precision cuts and prevent operators from reaching into the machine.



• Visualize the cut prior to execution and ensure no mistakes will be made with the Laser Guide, showing exactly where the blade will be cutting.



Visit TigerStop at AWFS in booths 8920 + 9020 to learn more about TigerAngle and all the TigerStop products.



About TigerStop

TigerStop, LLC is the global leader in automated stop/gauge and pusher systems. TigerStop, headquartered in Washington State, is a U.S. manufacturer of products for the furniture, cabinet, electronics, plastics and metalworking industries. TigerStop's equipment easily integrates with any tool requiring accurate lineal positioning of materials, turning a standard manual shop into an automatic lean production machine. To learn more about TigerStop's products and services, and how they can maximize production capabilities, contact them at 360.254.0661, or visit TigerStop's website at www.tigerstop.com.



TigerStop LLC

360.254.0661

www.tigerstop.com