Cutters speed slotting, edging and shoulder milling.
Press Release Summary: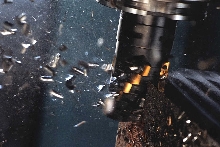 CoroMill(R) 390 long edge, indexable milling cutters are available with 11 and 18 mm inserts for light to heavy machining of materials ranging from aluminum to hardened steels. Cutter bodies are machined from pre-hardened steels with high precision insert pockets for 90 deg edge positioning. The 11 mm insert cutter has 1.25 to 2 in. dia, with 1.42 to 3.9 in. length of cut. The 18 mm version has 1.69 to 3.9 in. dia, with 1.5 to 8 in. length of cut.
---
Original Press Release:
Long Edge Milling Cutter Doubles Throughput Of Slotting, Edging, And Shoulder Milling

Sandvik Coromant's new CoroMill® 390 long edge indexable milling cutter doubles productivity in slotting, edging and deep pocket milling operations. The latest additions to the CoroMill 390 family of milling cutters also improve chip removal and reduce horsepower requirements. Contouring steel castings, for instance, the quiet, stable cutter achieved 804 sfm, twice the speed of comparable cutters, yet drew just 45% of the machine power. The versatile cutters are available with 11 mm and 18 mm inserts for light to heavy machining of materials ranging from aluminum to hardened steels.

The CoroMill 390's cutter body is machined from pre-hardened steels and features high precision insert pockets for accurate 90° edge positioning with minimal runout and mismatch. The helical arrangement and refined cutting edge of the inserts minimize vibration while the efficient flute design maximizes chip evacuation. When used with the strong, stable Coromant Capto modular toolholding system, the 390 long edge cutter provides free, smooth cutting with optimum access to deep cuts.

The 11 mm insert cutter is 1.25 to 2 in. diameter, 1.42 in. to 3.9 in. length of cut and ideal for light cutting and lower horsepower machines. Designed for heavy machining, the 18 mm version comes 1.69 in. to 3.9 in. diameter, 1.5 to 8 in. length of cut. Sandvik custom-engineered Tailor Made versions are also available to meet specific milling requirements.

Sandvik is an international group of materials-technology companies with 34,000 employees in 130 countries and over $5 billion in annual sales. Operations worldwide comprise three separate business areas: Tooling, Specialty Steels, and Mining and Construction. The Sandvik US group represents all three business areas, exceeding $1 billion in annual sales.

Products include cemented carbide and high-speed steel tools for metalworking; machinery and equipment for mining and construction; and stainless steels, special alloys and heating materials. Each company in the Sandvik group prides itself on large investments in research and development, a strong commitment to superior customer service and the willingness and capability to lead the way in technology.

For more information contact Thomas Carlberg, Sandvik Coromant, 1702 Nevins Road, Fair Lawn, NJ 07410; email thomas.carlberg@sandvik.com; phone (201) 794-5000, fax (201) 794-5217, www.coromant.sandvik.com

More from Fluid & Gas Flow Equipment