Cut-Resistant Gloves incorporate palm coating to enhance grip.
Press Release Summary: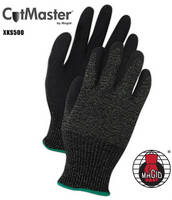 Featuring NitriX(TM) black sandy nitrile palm coating, XKS500 provides cut protection and firm grip while channeling away oils, solvents, and water. With same attributes as XKS500, XKS510 differs only in its soft, dark grey, foam latex palm coating that optimizes grip and dexterity in dry and wet/water conditions. Both CutMaster® work gloves, which feature ANSI Cut Level 4 rating, are of 13-gauge, high-density machine knit manufactured using XKS(TM) Yarn.
---
Original Press Release:

CutMaster® XKS(TM) Palm Coated Gloves Take Protection to New Extremes



New Coated Styles Break the Mold on Comfort, Cut Resistance, Durability and Grip Offered by Traditional Palm Coated Machine Knit Gloves

CHICAGO, IL - Magid Glove & Safety adds two new gloves to the XKS(TM) family line today with the addition of the Magid® CutMaster® XKS500 and XKS510 palm coated styles, taking the XKS Work Gloves' already extreme cut protection to the next level. The new XKS Palm Coated Work Gloves earn an ANSI Cut Level 4 rating - as much as two-and-a-half times greater cut protection than palm coated gloves made from a 100% aramid or HPPE yarn of a similar weight. The XKS500 features NitriX(TM) Grip Technology - a unique and proprietary sandy nitrile palm coating, while the XKS510 showcases a premium foam latex palm coating. These new work gloves offer even greater levels of cut and abrasion resistance along with a superior grip well suited for even the most demanding applications.

The XKS500 and XKS510 are a lightweight, 13-gauge, high-density machine knit manufactured using Magid's signature XKS Yarn, which utilizes a proprietary yarn blending and fiber spinning technology. XKS Yarn is comprised of a unique combination of stainless steel wire, Kevlar® and high performance fibers to produce the gloves' shells offering extreme cut protection, comfort and durability. In fact, CutMaster XKS Gloves' low-linting properties, inherent strength and natural black coloration extend usage up to two to three times longer than gloves made from other cut resistant materials. Add to that the increased gripping power, dexterity and abrasion resistance of NitriX Grip Technology and foam latex palm coatings for an extreme value that is second to none!

"Given its ability to deliver a high level 4 cut protection in a comfortable lightweight at a considerably low cost, the CutMaster XKS Work Gloves create significant value for the company and our customers in price and performance," said Adam Cohen, executive vice president of Magid Glove & Safety. "Adding NitriX Grip Technology and foam latex palm coatings was the natural evolution of the glove line in that not only do they enhance the comfort, cut resistance and durability that is the hallmark of the XKS Glove, but they also provide exceptional gripping, abrasion resistance and tactile sensitivity benefits to widen their use in the field."

As with all XKS Gloves, the new palm coated CutMaster XKS Work Gloves employ the same seamless machine knit construction and reversible design for increased dexterity and extended wear. Each pair includes a color coded wrist band to prevent unraveling and ease in sorting after laundering and a label to simplify size and style identification.

Featuring a NitriX Grip Technology which is comprised of a proprietary, premium, black sandy nitrile palm coating, the XKS500 provides excellent grip and enhanced protection while channeling away oils, solvents and water. The CutMaster XKS500 Glove is well suited for use in metal stamping, assembly or applications requiring the handling of small, oily parts and anywhere the potential for cuts and lacerations exist.

Completing this latest CutMaster XKS Work Glove installment is the XKS510, which includes all the same product attributes as the XKS500 with the exception of a premium, soft, dark grey foam latex palm coating to deliver excellent grip and dexterity in dry and wet/water conditions. The CutMaster XKS510 Work Gloves are ideal for assembly tasks that require excellent cut protection with a high degree of dexterity and sensitivity.

The CutMaster XKS500 and XKS510 styles are available in sizes 7-11. The XKS500 is priced at $87.00/dozen, and the XKS510 is priced at $79.20/dozen. All styles are packaged a dozen pair per poly bag with 12 dozen per carton, available for immediate shipment and have additional discounts available for quantity purchases.

About Magid Glove & Safety Mfg. Co. LLC Headquartered in Chicago, IL, Magid Glove & Safety is America's leading manufacturer, importer, distributor and direct supplier of hand protection, personal protective equipment (PPE) first aid products and protective and disposable clothing. A valued partner in safety to thousands of companies since 1946, Magid proudly offers its own signature Magid branded products as well as products from such top-quality brands as 3M(TM), Ansell®, DuPont(TM), MAPA®, MSA, North by Honeywell, Showa-Best®, Sperian and many more. Utilizing a state-of-the-art warehouse management system, Magid ships 95% of its orders within 24 hours of receipt from the world's largest PPE inventory of over 30,000 items. For more information about Magid Glove & Safety or its full line of gloves and personal protective safety equipment, please visit www.magidglove.com or call 1-800-444-8030.

More from Optics & Photonics