Cut-Off Saw quickly cuts 300 series stainless steel.
Press Release Summary: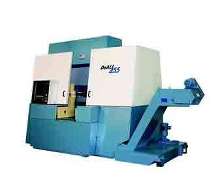 Model C-455CNC, with 15 hp motor, cuts 303 stainless steel at rates over 40 sq in./min, maintaining accuracy of ±0.002 in. per in. of work height. AC drive provides infinitely variable band speeds from 40 to 500 fpm. It accommodates up to 17 in. high rectangular and round stock and up to 18 in. wide rectangles. Windows-based Fanuc display station, with touchscreen connected to GE 90-30 programmable controller, controls dual-column saw.
---
Original Press Release:

New DoALL Saw Cuts 300 Series Stainless at Over Forty Square Inches per Minute


DoALL's new production cut-off saw uses a high torque 15-hp motor to reach heretofore unattainable cutting speeds. In field tests, the new Model C-455CNC has cut 303 stainless steel at rates over 40-sq. in./minute while maintaining an accuracy of ±0.002-in. per inch of work height. The saw uses an AC variable frequency drive assembly that provides infinitely variable band speeds from 40 to 500 fpm. And, the design of its rigid base, provides the stability to use either carbide or bimetal blades. Capacity for rectangular or round stock is up to 17-in. high, and rectangles can be accommodated up to 18-in. wide.

To handle the increased volume of chips created by the high sawing rates, the dual column saw incorporates a chip/coolant containment cabinet with a flood coolant system using coolant multiple application points including through the saw guides to efficiently wash away chips. The cabinet is also fitted with special baffles to direct the chips to a powered chip auger. A powered band brush removes chips from the blade gullets.

The C-455CNC saw is controlled by a Windows based Fanuc display station with a touch screen connected to a GE 90-30 programmable controller. It simplifies set-up by incorporating the DoALL sawing database, which recommends optimal blade type, band speed and cutting rate. The system also provides a full range of cutting statistics including estimated and actual cut times, cuts required and cuts completed.

The saw has a hydraulically powered front vise and index clamping vise powered by full stroke hydraulic cylinders. They automatically separate at the end of each cut to eliminate tooth damage as the saw head rises. Both vises have replaceable wear plates.

DoALL also manufactures a variety of material handling equipment to accompany the C-455CNC for even greater efficiency and safety. Roller conveyors, chain transfers and lift rollers are among the types that are available.

For further information, contact:

Mr. Steve Manning
National Sales Manager - Sawing Products
DoALL Company
254 North Laurel Avenue
Des Plaines, IL 60016
TEL: (847) 824-1122
FAX: (847) 699-7524
WEB: www.doall.com
E-mail: info@doall.com

More from Controls & Controllers