Customizable Bracket System supports linear slot fixtures.
Press Release Summary: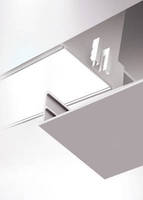 Designed to ensure clean ceiling and wall surfaces for Gruv linear slot fixtures, 6 in. Standard Plus wall-to-wall system is field-cuttable to adapt to inconsistent distances between walls within same space. Gruv is offered in lengths of 2, 3, 4, and 8 ft, with Standard Plus brackets that fit into any 9/16 in. slot grid ceiling or sheetrock ceiling. Standard Plus installs optimally with Gruv 1.5 in. LED, Mini Recessed, 4 in. Recessed Linear, and 6 in. High Efficiency Recessed Linear units.
---
Original Press Release:

Amerlux Reveals Standard Plus/Gruv Field-customizable Bracket System Revolutionizes Approach to Linear Runs



OAKLAND, N.J.,  -- Designed to ensure clean ceiling and wall surfaces for linear slot fixtures, Amerlux unveils Standard Plus, a wall-to-wall innovation featuring a new field-customizable bracket system that will revolutionize the way the industry approaches linear runs. With a savings of up to 35 percent over made-to-measure fixtures, the 6" Standard Plus option for the Gruv family of recessed slot luminaires is engineered to easily install and is field-cuttable to adapt to the imprecise and inconsistent distances between walls within the same space.



"We welcome Standard Plus as a wall to wall innovation that revolutionizes the way the industry approaches linear run lengths," explains Amerlux CEO/President Chuck Campagna. "This bracket system works with a variety of Gruv fixtures to make your installation look perfect every time with a made to measure look and major cost savings."



Utilizing Standard Plus customizable 6" brackets, Gruv projects will reflect pristinely illuminated venues without adding expense or lead-time while walls and ceilings remain clean architectural surfaces. Gruv is offered in lengths of 2', 3', 4', and 8' feet sizes, with Standard Plus brackets that fit into any 9/16" slot grid ceiling or sheetrock ceiling. Standard Plus installs optimally with Gruv 1.5" LED, Gruv Mini Recessed, Gruv 4" Recessed Linear, and Gruv 6" High Efficiency Recessed Linear.



Standard Plus brackets fit any ceiling, snap into place easily from below and can be cut to suit any project space. Standard Plus fits most ceilings and snaps right into place.



"No matter how exact your vision and drawings for an installation may be, on-site measurements often deviate a fraction of an inch and the entire project can come to a halt, wasting time and adding costs until the lighting manufacturer builds a new fixture," Mr. Campagna continued. "When using Standard Plus brackets your results will render beautifully lit ceilings, with less time lost, more money saved, less aggravation, and perfectly tailored results."



About Amerlux LLC

Amerlux creates lighting designed around its customers and will stop at nothing to help realize their vision. Amerlux works closely with customers every step of the way, from design through construction, to ensure total success and total satisfaction. Amerlux is fueled by a passion to consistently deliver in a fraction of the time of competitors, even on short-run custom orders, and that includes making sure every order is accurate, every product performs flawlessly, and every customer is successful.



Amerlux speaks the language of light for design and construction professionals around the world by manufacturing a broad array of optically superior, energy efficient lighting solutions for the retail, supermarket, hospitality, commercial and exterior lighting markets. Amerlux products and services include track lighting, recessed downlighting and multiples, pendants, linear systems, and custom lighting solutions, as well as support for energy reduction plans that can be used as a guide to state, city and local utility rebate programs for maximum energy savings and utility incentives. The company's domestic and international clients receive the support of Amerlux's highly trained specification sales force, as well as expert service from initial design to on-time delivery made possible by strategically located manufacturing, warehousing and shipping locations.



Contact:

AMERLUX, LLC

178 Bauer Drive

Oakland, New Jersey 07436

www.amerlux.com

info@amerlux.com

T 973.882.5010

F 973.882.2605

More from Sensors, Monitors & Transducers