Custom Valves suit chemical and nuclear industries.
Press Release Summary: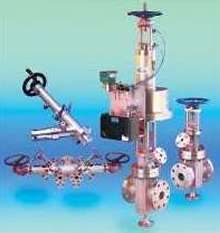 Valve types include slide, double slab gate, gate, ball, plug, glob, piston, tank bottom, sampling, injection, rinsing, and butterfly valves. They are offered as manual or automatic, pneumatic, electric, and hydraulic, in sizes ½-48 in., with pressure classes from ISO PN 10-420. Valves can be manufactured from carbon steel, austenitic and super austenitic stainless steel, duplex steel, nickel and nickel alloys, and alloys such as titanium, zirconium, and tantalum.
---
Original Press Release:

Guichon Valves Introduces Special and Custom-Made Valves for the Chemical, Petrochemical, Pharmaceutical, Nuclear Industries


Chicago, April 2, 2003

The French company Guichon Valves is one of the world's leading producers of high performance industrial valves. Since 1921, the company has designed, manufactured and supplied various custom-made values for all severe, complex and dangerous industrial processes in the chemical, petrochemical, pharmaceutical and nuclear industries.

Guichon Valves has complete control over the design, production, assembly, and testing of its products, as well as over its after sales, spare parts and repair services. The company's valves are specially designed for high pressure circuits; high temperature and cryogenic circuits; high viscosity products such as polymers, resins, polyester fibers, sulfur, and tars; corrosive and aggressive fluids including acids and bases; abrasive, charged or non-cohesive products; high tightness performance requirements; and long-term service requirements.

The company's range of valves includes slide, double slab gate, gate, ball, plug, glob, piston, tank bottom, sampling, injection, rinsing, and butterfly valves. It offers both manual and automatic (pneumatic, electric and hydraulic) valves, ½" to 48", with pressure classes from ISO PN 10 to 420 (ANSI 150 to 2500). To meet customers' needs, all valves can be manufactured in different materials including carbon steel, austenitic and superaustenitic stainless steel, duplex steel, nickel and nickel alloys, and special alloys such as titanium, zirconium, and tantalum.

Guichon Valves is certified ISO 9001 V2000, and PED (N°97/23/CE) approved. Its main customers include Bayer AG, BP Chemicals, Dow Chemicals, Nestec S.A., Rhodia, TotalFinaElf, and Zimmer AG.

The company will exhibit its products at the Achema Show in Frankfurt, Germany from May 19 to 24, 2003, and can be found at Booth A17 in Hall 9.1. Guichon Valves is currently seeking business contacts in the United States and Canada.

For more information, please contact:

Ms. Béatrice ODELIN
Marketing & Communication Manager

Guichon Valves

Rue Jacqueline Auriol, BP 401
73104 Aix les Bains Cedex, France
Tel.: (011.33) 4 79 61 40 00
Fax: (011.33) 4 79 35 24 02
E-mail: sales@guichon.com
Web: www.guichon.com

or

FRENCH TECHNOLOGY PRESS OFFICE
One East Wacker Drive, Suite 3740
Chicago, IL 60601
Tel: (312) 222-1235
Fax: (312) 222-1237
E-mail: mailto:ejohnson.ftpo@ubifrance.com contact.ftpo@ubifrance.com

More from Electronic Components & Devices