Custom Theater Products from Energy Transformation Systems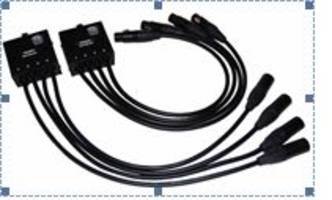 Currently, ETS has SDS Custom Theater products in 16 Broadway shows including "Hamilton" and "Human".
ETS has seen the demand for their SDS Custom Theater products such as the Audio Adapters (SDS901 and SDS902), Audio and Video Matrix hubs (SDS899 and SDS905) surge as audio technicians around the world discover their convenience. Not only are the SDS Custom Theater line of products passive, the set-up/tear-down and troubleshooting are much easier and quicker.
All the products are Foresight™ and ClearCom™ compatible and their rugged, passive design means outstanding reliability--show designers simply cannot risk technical problems in live shows. For phantom power systems, shielded Cat5e or Cat6 works well.
With the InstaMusician™ SDS903 and SDS904, piles of short jumper cables are eliminated and the pigtails allow access to the mixer without heavy, expensive mic cables or unwieldy video coax.
Sound Designer, Shannon Slaton has been designing sound systems using ETS theater products for Broadway, London, Istanbul and points east with great success.
He observed, "ETS is a Made-in-USA company that listens carefully to feedback from end users. Their open-door policy often generates innovative new designs for their Custom Theater Products. These products are so good they almost sell themselves! Sound engineers and technicians appreciate the technical support where they receive quick answers and service when they have questions."
Visit! Energy Transformation Systems, Inc.
Website: http://www.etslan.com
About ETS - Woman Owned Small Business
Fremont, CA - Since 1967, beginning with custom-made transformers and continuing since 1981 as innovators of balun, hub, adapter and splitter technology, ETS provides a wide range of media conversion solutions for audio, data and video for analog or digital installations over structured wiring systems. ETS provides you solutions with 100% guaranteed USA-Made products.
ETS
(T) 800-752-8208, 510-656-2012
(F) 510-656-2026
Sales Contact:
Name: Joe Rosenberger,
ETS Sales
Email address: jrosenberger@etslan.com
800-752-8208 or 510-656-2012
More from Material Processing