Custom Step Motors have 0.9° step angle.
Press Release Summary: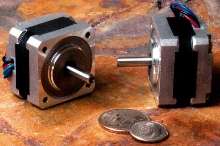 Available with 4 or 6 leads, NEMA 14 steppers for OEMs allow users to specify motor length, windings, and mountings in addition to type, color, and length of lead wires and connectors. Other options include choice of bearings and custom shafts (single or double, length, flats, pinions, keyways). Typical 4.5 V, 0.9° NEMA 14 stepper, measuring .87 in. deep, has holding torque of 5 oz-in. with 6 leads and 8 oz-in. with 4 leads and is rated at 0.45 A/phase.
---
Original Press Release:
Custom, Low Cost - 0.9° NEMA 14 Steppers for OEMs!

Santa Clara, CA - Source Engineering, Inc. (SEI) has introduced a low cost, series of custom 0.9° NEMA 14 steppers for OEMs. The 0.9° step angle assures smooth operation even at low speed. Specifiers can custom design a SEI 0.9°hybrid stepper to meet the performance requirements of a new project or to increase performance and reduce cost of an existing application. By specifying the motor length, windings, and mountings these steppers can be configured to provide the torque and performance required, and be easily integrated into the application. Applications include: Printers and plotters, X-Y tables, medical instruments, scanners, security camera positioning, office equipment, index tables, and robotics.

These high performance 0.9° steppers are available with four or six leads to meet torque and performance requirements. For example: A typical 4.5 V, 0.9° NEMA 14 stepper just .87 in. (22 mm) deep has a holding torque of 5 oz/in. (six leads) and 8 oz/in (four leads), and is rated at 0.45 A/phase. Additionally, the type, color and length of the lead wires as well as connectors can be specified. Other options include: Choice of bearings and custom shafts (single or double, length, flats, pinions, keyways).

Source Engineering, Inc. located in Santa Clara, CA is a also supplier of brushless and brush-type motors, stepper motors, induction motors, optical encoders, gearboxes, gearmotors, amplifiers, universal power supplies, optical lenses, cable harnesses, and molded cables, and reflectors to OEM's. Other products and services include: Machined parts, injection moldings, die cast and aluminum extrusions, precision machining and turnkey manufacturing solutions.

For more information, call or fax Mr. Robert Thompson, Application Engineer, at Source Engineering, Inc., 3283-H De La Cruz Blvd., Santa Clara, CA, 95054, Tel: 408-980-9822, Fax: 408/980-1860 or visit our Web site at www.sei-automation.com
More from Services