Custom Steel Heavy Duty Shop Tables for Tampa Conveyor Parts Supplier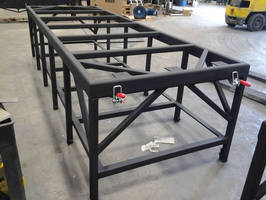 On May 5, 2016, Keller-Angelillis completed two (2) each custom steel heavy duty tables for Epperson Co. in Tampa, FL.



Epperson & Co.  was experiencing an increase in demand for their in-shop services.  They called upon Keller-Angelillis to custom fabricate their request for two new custom steel heavy duty work tables.  The two rectangular tables were made out of mild steel rectangular tubing, square tubing and angles for the cross bar supports.  Both tables were 34-1/2" tall, 4ft wide and 12ft long.  These tables were primed and painted to help with corrosion resistance and protection from the elements. 



The service staff at Epperson & Co. was very satisfied with the quick turnaround and accurate construction. 



Related