Custom Stainless Steel Tanks for Resin Storage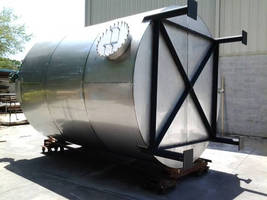 On April 28, 2015, Keller-Angelillis completed two (2) 6300 gallon stainless steel tanks for Nautique Boat Company of Orlando, FL. 



Nautique Boat Company was looking to upgrade their resin mixing and storage tanks and called upon Keller-Angelillis to custom fabricate their request.  The  two round tanks were made out of T304 stainless steel.  Both tanks were 9ft-6" diameter with 12ft straight sidewalls.  The custom tanks were welded using the MIG method on the outside and the TIG method on the inside. 



Included with this order were the inlets and outlets, per request,  along with an OSHA approved carbon steel caged ladder painted safety yellow.     



Nautique also requested that Keller-Angelillis design and build a custom aluminum walkway so that they could access both tanks.  We designed the aluminum catwalk to fit on top of both tanks and bolt into place on location. 



It took 4 weeks to complete this project. 





More from Electrical Equipment & Systems