Automated Guided Vehicle Systems
Custom Performance Wheel Manufacturer Uses Creform Carts to Safely Move Products Through Production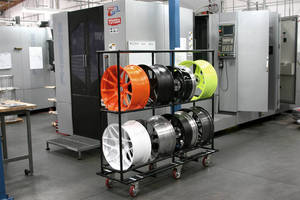 Wheels manufactured by HRE Performance Wheels are known for strength, lightweight design and superior engineering. They can be found on some of the world's finest racing, performance and luxury cars as well as SUVs. The built-to-order wheel sets are offered in a customized choice of offsets, widths and finishes resulting in uniquely personal style, performance and appearance, sold through select high-end car dealerships, specialty retailers and performance companies worldwide.



HRE specializes in one-piece and three-piece forged aluminum wheels in a variety of widths and diameters, which travel during production through numerous manufacturing and finishing operations at the HRE facility. Safe handling throughout this production process is an absolute must because even the slightest damage could result in a rejected product. That is significant as the wheels average about $8,000 per set. 



HRE selected the Creform System of plastic coated steel pipe and joints to create a fleet of custom designed pushcarts for safely moving the wheels in its manufacturing facility. The carts need to be made of a material that would not damage the wheels during handling and transit. Creform plastic coated steel pipe and metal joints meet that need while providing the strength to carry the products through manufacturing and shipping.



The Creform plastic coated steel pipe cradles the wheels by the outside diameter of the rims and the soft pipe surface safely carries the wheels through production. Associates move the carts from station to station, removing the wheels for processing then placing them back on the carts for continued processing.  Each wheel fits into a designated space to prevent nesting and the possibility of contact with another wheel. This designated space also allows for quick identification and easy loading/unloading. The outside upright supports on either end of the carts also act as push-pull handles while helping maintain a high degree of stability.



HRE has been a long term Creform customer and over the years they have used both Creform plastic and metal joints to assemble structures. Ten new carts were recently designed and assembled using Creform metal joints. Metal joints were selected for their ease of assembly, strength and flexibility should cart modifications be required.



For fast, easy load/unload the carts have two comfortable height levels and six, 5 in. diameter urethane casters for easy, stable, and safe movement. Four casters feature brakes that can be engaged for secure positioning and two provide swivel support. Each cart holds eight wheels and is 20 in. W, x 70 in. L x 65 in. H, with a weight limit of 500 lb.  Creform pipe is available in a wide variety of colors so carts can be color-coded for quick process identification. 



The Creform System is used to create an array of material handling and efficiency  enhancing devices, special purpose and trailer carts, flow racks, roller conveyors, workstations, and AGV/AGCs. The Creform System is a proven component in continuous improvement and Lean Manufacturing programs, and the company partners with customers in developing and implementing these programs.



Online at www.creform.com. Creform is a registered trademark of Yazaki Kako Corporation and Creform Corporation



A custom designed pushcart built with Creform plastic coated steel pipe and metal joints cradles the HRE wheels by the outside diameter of their rims and the soft pipe surface safely carries the wheels through production.









 

More from Materials