Custom Miniature Shaft Collars are manufactured to specification.
Press Release Summary: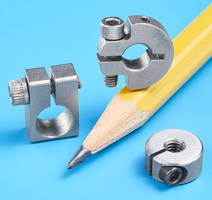 Available in prototype through production quantities, custom-fabricated miniature shaft collars, Stafford Miniature Shaft Collars come in diverse configurations with ODs as small as 0.500 in. and bore sizes from 0.062 in. Possible materials of manufacture include alloy steels, stainless steels, aluminum, titanium, brass, copper, Hastelloy®, and others. Along with various mounting features, design options include can also be anodizing, passivating, and finishing to design requirements.
---
Original Press Release:
Miniature Shaft Collars Meet Precise Design Requirements
Custom fabricated miniature shaft collars manufactured to specification from a wide range of materials, including special design features, are being introduced by Stafford Manufacturing Corp. of Wilmington, Massachusetts.

Stafford Miniature Shaft Collars can be manufactured from a wide variety of materials in many different configurations with O.D.s as small as 0.500" and bore sizes from 0.062".  Made to specification, they can incorporate various mounting features including threaded bores and can be anodized, passivated, and finished to meet precise design requirements.

Available in prototype through production quantities, Stafford Miniature Shaft Collars can be manufactured from alloy steels, stainless steels, aluminum, titanium, brass, copper, Hastelloy®, and other materials.  Appli-cations for these custom fabricated collars, clamps, spacers, and stops include mechanical breadboarding and parts in small instruments.

Stafford Miniature Shaft Collars are priced according to material, configuration, and quantity.  Price quotations are available upon request.

For more information contact:
Stafford Manufacturing Corporation
Jim Swiezynski, Technical Director
P.O. Box 277
North Reading, MA 01864-0277
(800) 695-5551  FAX (978) 657-4731
e-mail: jswiezynski@staffordmfg.com
deep link: http://shaft-collars-couplings.staffordmfg.com/category/stafford-in-the-news
www.staffordmfg.com
More from Electrical Equipment & Systems