Custom Micro-Coaxial Assemblies suit ultrasound applications.
Press Release Summary: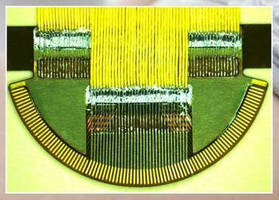 Available in single coax, twisted shielded pairs, parallel pairs, or differential pairs, 40–50 AWG fine-wire coaxial cables come packaged as ribbonized or bundled assemblies. Fine-pitch, microscopic termination capabilities range from 1–0.175 mm and exhibit durability with ratings in excess of 500,000 flex's at 90° and ability to withstand Ethylene Oxide gas sterilization. Capacitance can be tuned to exceed <12 pF/ft, and impedance can be tuned up or down by 0.05 Ω.
---
Original Press Release:

Custom Tuned and Terminated Micro-coaxial Assemblies for Ultrasound Applications



Scottsdale, AZ – High Speed Interconnects ("HSI"), a full service extruder and manufacturer of high performance coaxial cable and assemblies, has recently announced custom, fine-wire and fine-pitch diagnostic imaging assemblies for medical device OEMs producing next-generation ultrasound equipment.



HSI's proprietary extrusion capabilities produce fine-wire coaxial cables ranging from 40-50 AWG and these can be packaged as either ribbonized or bundled assemblies. Fine-pitch, microscopic termination capabilities range from 1 mm to 0.175 mm.  Despite their small size they are extremely durable (exceeding in excess of 500,000 flex's at ninety degrees) and capable of withstanding the demands of Ethylene Oxide gas (EtO/EO) sterilization.



These micro-coaxial, medical assemblies are offered as insulated single coax's, twisted shielded pairs, parallel pairs, or differential pairs, and can be delivered terminated to flex circuits, PC boards, transducers, optics, emitters and detectors, and other medical sensors.



Since HSI extrudes its own coaxial cable and formulates its own VP90TM ePTFE dielectric, each cable can be customized to be ergonomic, light and miniature. Their capacitance specifications can also be tuned to exceed less than 12 picofarad (pF) per foot, and impedance can be tuned up or down by 0.05 an Ohm.



From conceptual New Product Introduction (NPI) design, through first article qualification and production, HSI adopts Design For Manufacturing & Assembly (DFMA) practices, which yield excellent lead times and unparalleled cost savings. HSI adheres to FDA compliant GMP practices. Certifications include AS9100 revision C, ISO9001, EN13485 (currently pending and compliant), IPC 610/620, and ITAR Registration. HSI is also factory-certified in North America to properly terminate to Hirose, IPEX, and JAE micro-coaxial connectors. For more details, or to get a quotation on your next diagnostic imaging assembly, visit http://www.highspeedint.com



About High Speed Interconnects



High Speed Interconnects (HSI) is a designer, extruder, and manufacturer of custom micro-coaxial and coaxial cable assemblies. Headquartered in Scottsdale, AZ, and with facilities in Portland, OR, HSI is one of a few manufacturers extruding its own high-performance coaxial cable and is the exclusive cable assembly manufacturer using a new expanded PTFE (ePTFE) called VP90. HSI's low-loss, low-capacitance, phase-stable, coaxial interconnect solutions are available in a variety of cable constructions. These constructions include circular and micro-coaxial cable assemblies down to 0.3 mm pitch and fine wire and direct-to-board assemblies down to 0.175 mm. For more information visit www.highspeedint.com



Press Release Site Link:

http://www.highspeedint.com/news/Custom_Tuned_and_Terminated_Micro-coaxial_Assemblies_for_Ultrasound_Applications/



Company Contact:

Antonio De La Rosa

High Speed Interconnects

antoniod@highspeedint.com

480-998-2540



Agency Contact:

Melanie Schleeweis-Connor

Strand Marketing

mschleeweis-connor@strandmarketing.com

978-463-0780

More from Controls & Controllers