Custom Matrix Tray System eliminates hand placing of SMT components.
Press Release Summary: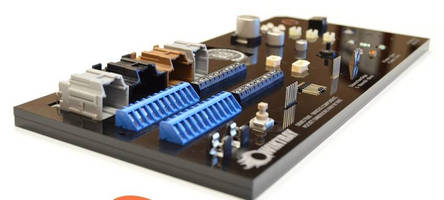 When tape-and-reel is not available and standard JEDEC trays do not exist, QWIKTRAY custom matrix trays allow surface mount electronic components to be picked up in repeatable method. Machining and additive manufacturing technologies are utilized to develop custom pocket design matched to component specifications, and finished matrix tray ships ready to load and install in equipment. Each product includes CAD drawings and come standard in non-ESD black acrylic.
---
Original Press Release:
Count On Tools Inc. Launches the QWIKTRAY Custom Matrix Tray System
GAINESVILLE, GA — Count On Tools, Inc. (COT), a leading provider of precision components and SMT spare parts, is pleased to announce the launch of the new QWIKTRAY system, developed to provide low-cost, custom matrix trays for many types of electronic components. The QWIKTRAY platform allows surface mount components to be picked up in a repeatable method when tape-and-reel is not available and standard JEDEC trays do not exist. Customers no longer have to place these components by hand.

Utilizing the latest in machining and additive manufacturing technologies, QWIKTRAY will develop a custom pocket design matched to your component specifications and machine it into a finished matrix tray. QWIKTRAYs can be designed for almost any component, including QFP, BGA, hybrid, assemblies, sockets, pins, connectors, LEDs, switches, buttons, transformers and more.

Each QWIKTRAY is CNC machined to the specific configuration for your component and ships ready to load and install in the equipment. Each QWIKTRAY includes CAD drawings, containing pocket dimensions, first part location, spacing, and other programing details. QWIKTRAYs come standard in non-ESD black acrylic (ESD-safe and other materials are optional).

According to Zach Shook, Operations Director of Count On Tools, Inc., "Our company understands that in order for our customers to remain competitive in today's market, they must be able to cut costs while maximizing the capabilities of their existing SMT assembly equipment to prevent costly investments in new equipment or increased labor from hand placements of electronic components. The QWIKTRAY platform provides customers with a fast and easy way to get components back into the machines. This could be from loose components with no standard packaging, such as tape reel or JEDEC trays, or from recovered components that were miss-picked or dropped during previous production runs."

The QWIKTRAY program provides rapid turnaround on the design and production of any quantity of custom matrix trays. Standard lead time is 7-10 days with optional expedited service in as little as 24-48 hours (additional charges may apply). The system is designed for any application requirements, from prototype to high-volume processes. With the QWIKTRAY platform, there is one flat fee per tray with no minimum orders and no additional charges for design, programing, molds, setup, etc. Volume discounts also are available.

Mr. Shook continued, "Our company is based on engineering solutions for the entire SMT operation, from component handling and presentation to pick-and-place to final processing. The QWIKTRAY system is just another way that customers can move costly manual labor back into their production equipment. The design and manufacturing process has been streamlined to make the turnarounds fast while maintaining our high quality standards. Our QWIKTRAYs are designed for precision, stability and protection during the pick-and-place process." For more information, please visit www.qwiktray.com.

For more information about Count On Tools' products and services, visit www.cotinc.com.

About Count On Tools Inc.
Count On Tools Inc., a precision component manufacturer specializing in all aspects of the machining industry, has been setting new performance standards in the SMT pick-and-place nozzle market since 1991. As the ORIGINAL source for high-quality, low-cost vacuum placement nozzles and associated consumables, they have pioneered with world-class development and process engineers that combine to ensure that innovation and competitiveness is applied to all of its extensive product range. The company also stands behind its products 100% with a full warranty. Count On Tools' products are in use at many of the world's leading electronics manufacturing companies. Proven engineering expertise, coupled with the latest in design and manufacturing technology, has allowed the company to simplify the complexities of the industry and deliver a solution to its customers.

The company also maintains and supports a strong position in the hand tool industry, offering the highest quality hand tools in the world with PB Swiss Tools. These tools compliment any and all high-tech environments requiring optimum performance from both their equipment and technicians.