Custom Glass Scales are offered in three versions.
Press Release Summary: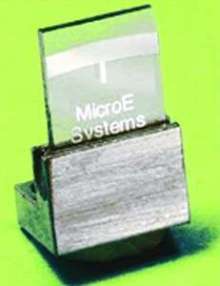 Application-specific encoder scales are available as rotary, rotary segment, and linear scales. Compatible with Mercury(TM) encoders, chrome-on-glass scales exhibit thermal stability and include optical index specified by customer. Custom rotary glass scales can be manufactured with IDs to 254 mm and ODs to 304.8 mm for max resolution of 176 M CPR. Options include index mark outside main track and low-CTE materials. Maximum length available is 2 m.
---
Original Press Release:

MicroE Systems Offers Custom Glass Scales for Mercury(TM) Encoder Models-Linear, Rotary and Rotary Segment Scales Available


MicroE Systems announces customization services for application-specific encoder scales including rotary, rotary segment and linear scales. Compatible with Mercury(TM) encoders, these chrome-on-glass scales provide superior accuracy and excellent thermal stability. All scales include an optical index that may be specified by the customer.

Custom large-ID rotary glass scales can be manufactured with ID's up to 254mm, special OD's up to 304.8mm for a maximum resolution of 176M CPR. Other options include an index mark outside the main track, and special low CTE materials. MicroE Systems also provides services for centering and mounting of hubs to rotary scales. Hubs may be supplied by the customer or manufactured to customer specifications by MicroE Systems.

For Mercury(TM) encoder applications that only need a small angular range, segment scales are a low-inertia, space saving alternative. Rotary segments can be manufactured with any angle range plus a wide selection of radius values. They may be shaft-mounted on a custom hub to create a "Butterfly" segment scale, for example, or fixed to a custom bracket for mounting.

Custom glass linear scales can be manufactured to special lengths, widths and thickness. Options also include index mark locations and special low CTE materials. The maximum length available is 2 meters.

These services are offered through the company's Odyssey OEM support program and are implemented by the company's Rapid Customer Response (RCR) Team. Contact the company for pricing and delivery. A Tech Note on custom scales may be obtained on-line by visiting http://www.microesys.com/pdf/TN-Custom_Scales.pdf

The Mercury(TM) encoder family includes 21 models in programmable, digital, analog, and vacuum compatible styles. The company also manufacturers the ChipEncoder(TM) digital encoder family. At 6mm square, ChipEncoder(TM) is the smallest high performance optical encoder in the industry. MicroE Systems, a division of GSI Lumonics, is the leader in encoder innovation and is celebrating its 10-year anniversary.

More from Communication Systems & Equipment