Custom Fuel Tanks feature polymer-based graphics.
Press Release Summary: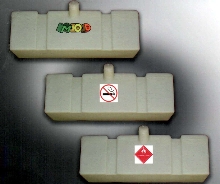 Custom One-Piece Fuel Tanks have permanently molded-in logos, warnings, serial numbers, and other full color graphics. They retain markings despite exposure to salt water, sunlight, solvents, cold weather, and other severe conditions. As seamless parts of cross-linked polyethylene tank structures, graphics deliver same strength and leak-proof integrity as rest of tank. They are suited for equipment where tanks may be visible and safety is an issue.
---
Original Press Release:

Custom Fuel Tank Manufacturer Offers Permanent, Molded-In Logs, Warnings and Graphics to Ensure Long-Lasting Brand Recognition, Aid Safety


Saddle Brook, NJ: Custom product design and manufacturing company Meese Orbitron Dunne Co., Saddle Brook, New Jersey, offers custom fuel tanks featuring permanently molded-in logos, warnings, illustrations, serial numbers and other full color graphics. Ideal for lawn mowers, trimmers, chain saws, boats, personal watercraft, snowmobiles, construction machines, and other equipment where the tanks may be visible and safety is an issue, the fuel tanks retain their markings despite long-term exposure to salt water, sunlight, solvents, cold weather and other severe conditions and substances.

Integrated into the one-piece fuel tanks during the rotational molding process, the polymer-based graphics achieve their permanence by becoming actual parts of the tanks, both chemically and visually. As seamless parts of the cross-linked polyethylene tank structures, the permanent, molded-in graphics deliver the same uniform wall thickness, strength, rigidity and leak-proof integrity, as the rest of the tank. In addition, by molding, in the graphics during manufacture, the fuel tanks may be produced more quickly and at less cost than by blow molding or injection molding, which both require a costly secondary process to apply the graphics.

The MOD fuel tanks accommodate the molded-in graphics regardless of the size, wall thickness or complexity of the tank design Available in capacities of up to 50 gallons, the fuel tanks are available in black, white or gray, providing a solid background that focuses attention on the colorful, molded-in graphics.

For more information, contact Bob Dunne, 4920 State Road, Ashtabula, OH, 44005: 1.800.772.7659: FAX 440.992.4667: bob@modroto.com; www.modroto.com


Related