Custom Fabrication of Lances, Headers, Injectors and More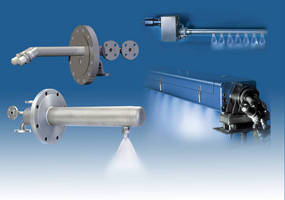 Custom design and fabrication services to ensure optimal spray system performance are available from Spraying Systems Co. Spray lances, injectors, quills, manifolds, headers and showers that supply liquid and air/gas to spray nozzles are among the fabricated products offered by the company.

Proper delivery of the sprayed liquid to the nozzles is important in overall system performance and working with a single supplier for both nozzles and feed devices can eliminate costly and frustrating integration problems. In addition, installation and operational challenges can be avoided when the fluid delivery device is designed for the available space, process conditions, service life requirements and safety standards.

Customized solutions often contribute to operational efficiency and a reduction in labor costs. Examples include retractable lances that minimize production interruptions, headers that accommodate many nozzle types to save space and reduce nozzle changeout time, flexible lances with hose adjustment to facilitate nozzle positioning and more.

Fabricated products can be manufactured to ASME® B31.1 and B31.3 Piping Codes and testing in accordance with ASTM® and ANSI® standards is available. Professional Engineers (PE) handle the design work in conjunction with dozens of engineers that specialize in spray technology.

Spraying Systems Co. is the global leader in spray technology. It has the broadest product range in the industry, several manufacturing facilities and sales offices in more than 85 countries. Spray nozzles, turnkey spray systems, custom fabrication and research/testing services comprise the 70-year-old company's offering. More information is available at www.spray.com or by contacting the company directly at 1-630-665-5000.