Custom-Designed Cart transports extra long crates.
Press Release Summary: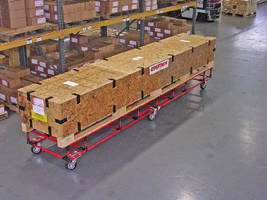 Suited for long, heavy, and awkward size container handling, Crate Cart enables manual transfer through tight aisle ways and limited space areas. Unit features 1,500 lb load bearing capacity and has overall dimensions of 155 x 31 x 16 in. Designed to withstand rigors of loading via forklift, modular cart is constructed with plastic-coated steel pipes, cross bracing throughout length, and 6 large diameter swivel casters.
---
Original Press Release:

Built-to-Length Cart Platform Transports Extra Long Crates...with Ease



In shipping, receiving, manufacturing and warehousing environments, it seems there's always going to be those odd containers that slow down the operation process. Awkward size, heavy crates often cause problems because they need simple manual transport from one point to another yet need to be on a cart that can withstand the rigors of fork truck loading and unloading. For one such application, Creform® Corporation has designed a unique cart ideal for long, heavy and awkward size container handling to achieve optimum maneuverability for manual transfer through tight aisle ways and limited space storage areas. Specifically designed for large package transfer and support, the Crate Cart from Creform utilizes the adaptability, flexibility and the economics of the Creform system of plastic coated steel pipes & joins system. The flexibility of the design allows carts to be built to accommodate crates with commonality of width but with various lengths, or vice-versa. Simple construction with sufficient cross bracing throughout the length of the cart assures each crate size can be centered on the cart for maximum support.

Crates may be loaded onto the cart with forklift vehicles, moved to process points, then materials unloaded by hand. The cart provides positioning agility and extreme maneuverability in manual operating conditions without the use of power equipment.
To accommodate vehicle handling, the Crate Cart is designed and constructed for the rigors of loading via forklifts. Plus, its modular design concept promotes simple repairs if forklift accidents occur, thus making maintenance procedures economical and quick in order to minimize downtime. It is also easily modified to meet changing process and material requirements or disassembled, using the components for completely different applications.

Though completely customer-specified as to size and capacity, the example Crate Cart (shown) features up to 1500 lb load bearing capacity, and has overall dimensions of 155" L x 31" W x 16" H. It was built incorporating six large diameter swivel casters for easy rolling and maneuverability. Caster wheels are offered in a variety of materials to provide long, durable service over varying floor surfaces, and in diameters to optimized strength and vehicle support.

A wide variety of pipe color options are also available, as are heavy duty 42mm diameter pipe that provides added load capacities while minimizing material needs. Creform engineers can assist in order to calculate loads for the rigors of industrials environments. Other practical construction options for this cart may include push/pull handles or a towing hitch.

The key elements to the adaptability and economics of Creform custom-designed structures are design and construction simplicity. Design parameters are basic while construction consists of cutting pipe sections to required length(s) then assembling components using the fastener-tightened metal joints (adhesive-welded plastic joints are a second assembly option). To complement many application requirements, a host of hardware items such as hinges, hangers, latches, stops, leveling feet, clamps, etc., are available.

Creform System standard components are also used for a wide variety of workstations, carts and flowracks and other material handling structures. Creform offers drive units and guidance systems to implement economical and easy-to-install Automated Guided Cart (AGC) systems. Creform Corporation offers design and assembly services for its structures and applications...and partners with customers to develop, implement, maintain and expand progressive lean manufacturing missions.

Visit www.creform.com for additional information regarding Creform Corporation and its products.

Creform® Corporation provides support and maneuverability for large, awkward length crate and container transport in both manual and forklift handling applications with its new Crate Cart structure.

Headquarters and Sales Office

P.O. Box 830, Greer SC, 29652-0830

Phone:(864)989-1700, (800)839-8823

Fax:(864)877-3863

Vice President Sales: Keith Soderlund

Email: SCsales@Creform.com

More from Communication Systems & Equipment