Custom-Confugurable Lifejackets meet SOLAS requirements.
Press Release Summary: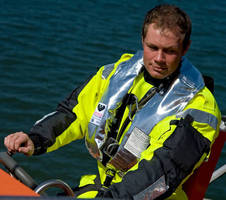 Intended for workers in offshore and commercial shipping industries, design-your-own inflatable SOLAS lifejackets feature modular design and can be tailored for specific working conditions. Options include choice of 180 or 275 Newton buoyancy; choice of 3 closure (buckle) types, including optional integrated harness; and cover materials that range from Cordura, wipe clean covers to aluminum covers. All combinations comply with MSC-200(81) SOLAS requirements.
---
Original Press Release:

Viking Introduces Design-Your-Own Lifejackets



Leading global marine and fire safety equipment manufacturer Viking Life-Saving Equipment has launched a new product line with broad appeal for the offshore and commercial shipping industries: design-your-own inflatable SOLAS lifejackets. Made possible by a new, modular design, Viking customers can tailor their own solutions for specific working conditions, such as those encountered in maritime environments, as well as offshore wind power, offshore welding and other industrial conditions.

The company offers a variety of options, including a choice of 180 Newton or 275 Newton buoyancy for those carrying extra weight, such as tool belts. There's a selection of three different closure (buckle) types, including an optional integrated harness for offshore wind industry workers. Cover materials range from durable Cordura, wipe clean covers to aluminum covers for welders or fire situations. A host of accessories and colors are also available. All combinations are SOLAS approved. So no matter how the lifejacket is designed, it will fulfill the existing and future SOLAS requirements described in MSC-200(81).

Viking CEO Henrik Uhd Christensen says the new lifejackets are part of the company's drive to provide flexible and fast solutions to a changing market. "We've always offered a choice of models and styles, but if our customers wanted to change any detail of the standard specification it would take a while to get the approvals through. Now, an offshore welder can quickly and easily specify a spark-resistant aluminum covering with a host of personal features, while someone else working in an oily or greasy production area of a platform may prefer some of the same features with a wipe clean cover."

Viking's new Buyer's Guide to SOLAS Lifejackets can be ordered online at www.viking-life.com or by contacting a local Viking office.

Founded in 1960, Viking is a market leader in maritime safety, providing and servicing essential safety equipment for passenger and commercial vessels, offshore installations and vessels, the defense sector, industrial fire fighting and leisure yachts. Viking offers a choice of global safety solutions that are certified to the latest requirements of IMO, SOLAS, EU and the USCG. Products include marine evacuation systems, offshore evacuation and crew transfer systems, liferafts, boats, lifesaving appliances and protective clothing such as immersion suits, work suits, fire suits and lifejackets.

Contact Viking Life-Saving Equipment, 1400 NW 159th St., #101, Miami, FL 33169. 305-614-5800. usasales@viking-life.com.

Related