Custom Components suit hydraulic/pneumatic equipment.
Press Release Summary: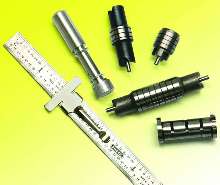 Custom-manufactured to user specification, cylindrical components feature complex cross and through holes, slots, flanges, threads, and milled surfaces. Parts range in diameter from .25-2¾ in. and length from ½ in. to 3 ft. They are accurate to .0002 in. for circularity, cylindricality, concentricity, and runout accuracy and are repeatable to within .00015 in. Materials include steel, stainless steel, aluminum, brass, and plastics.
---
Original Press Release:

Custom Machined Hydraulic and Pneumatic Components and Assemblies with Precisely Machined Features Available For Precision Applications


Call 1-800-321-6727 or See At www.marshallmfg.com

Minneapolis, Minnesota: Custom machined cylindrical components with precisely drilled cross holes, ports, and seals for use in hydraulic and pneumatic systems are available custom manufactured to specification from Marshall Manufacturing Company.

Original equipment manufacturers needing a just-in-time source for custom machined cylindrical components such as spools, sleeves, pistons, valve assemblies and families of parts will find Marshall Manufacturing equipped with CNC Swiss, CNC turning and CNC milling for high quality, 48-hour turn-around on part orders in medium to large quantities.

Precision hydraulic and pneumatic components often require special flow-path design features that are difficult to machine. Marshall Manufacturing specializes in solving these problems with a 30-year track record for automotive, valve equipment and commercial customer applications.

Machined features include complex cross and through holes, slots, flanges, threads and milled surfaces. Part diameters range from .25 inch to 2-3/4 inch with lengths of 1/2 inch to 3 feet, and with accuracy capabilities to .0002 inch for circularity, cylindricality, concentricity, and runout accuracy. Repeatability to within .00015 inch. Both multiple part assemblies and families of parts are available in these size ranges.

Materials include: steel, stainless steel, aluminum, brass and most plastics.

In addition to custom machined cylindrical parts, Marshall Manufacturing machines sheets, blocks and custom shapes in Acrylic, Delrin, Teflon, Noryl, PVC, CPVC, ABS, Polysulfone, UHMW, phenolic, and most metals.

Marshall Manufacturing provides CAD/CAM, CNC horizontal and vertical machining centers, CNC turning centers, CNC Swiss, CNC sawing, screw machines, multiple spindle drilling, tapping, stamping and a complete range of heat treating.

Incorporating advanced manufacturing techniques such as integrated machine operations and cell manufacturing, Marshall Manufacturing provides unparalleled quality, efficiency and on-time delivery.

With a total quality management (TQM) approach, ISO 9001:2000 certification, and statistical process control (SPC), Marshall Manufacturing provides service on a just-in-time (JIT) basis.

For more information, call 1-800-321-6727.

See at www.marshallmfg.com.

Email: general@marshallmfg.com.

Or write to Marshall Manufacturing, 3820 Chandler Drive, Minneapolis, Minnesota 55421. Fax: 1-800-321-6728.

More from Health, Medical, & Dental Supplies and Equipment