Custom Cake Dummies can be cut to any shape.
Press Release Summary: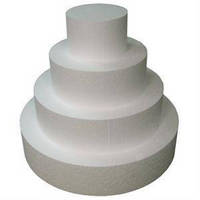 Made of polystyrene foam, Cake Dummies are suitable for window displays; as decorations for weddings, birthdays, and corporate events; or for practicing icing and decorating techniques. Foam can be cut to any shape desired by customer, including heart, hexagon, oval, petal, round, square, and triangle. In addition, Cake Dummies can be sanded, coated, and painted by WeCutFoam, or provided bare for event creators to decorate themselves.
---
Original Press Release:
WeCutFoam Announcing the Creation of Custom Cake Dummies and Fake Cakes for Weddings and Events
WeCutFoam, a foam cutting services company in Sunnyvale, CA is now offering custom cut cake dummies and any shape fake cake for weddings, birthdays, corporate events, bridal fairs, bakers and event planners. The cake dummies can be cut to any shape desired by the customer, from heart sets to hexagon, oval, petal, round, square, whimsical, triangle, only to name a few. They will enhance the event, adding more layers and colors while spending less time and money.

Have you ever created an event that requires cakes but did not feel like baking a whole lot of them to fill in the room? Well, anyone can have a beautiful looking cake that isn't an actual real one and is inedible, yet adding color and fun to any event. It is called a cake dummy, or a fake cake. The cake dummies have numerous uses as an alternative to decorating a real cake and can be an inexpensive way of providing a cake shaped base or tiered cake.

WeCutFoam will cut the cake dummies and ship it anywhere in the U.S., either as individual layers or as a whole set including multiple cake layers. Those fake cakes are made of polystyrene foam (also known as EPS, Expanded Polystyrene, Styrene, or Styrofoam) and meant for multiple uses. The sets are cut using a CNC hot wire foam cutter that melts the foam just in advance of contact. WeCutFoam also provides extra services, such as sanding, coating and painting the cake dummies, or they can be provided bare for the event creators to decorate it themselves, even cover them with frosting. The sets can also be supplied with a cake board to hold the cake and stabilize it, cut to any size to match the cake dummy.

The cake dummies are a great tool for any baker, cake decorator and event planner. They can be used as a display and window decoration, for decorations in bridal fairs, as decorations in weddings, birthdays and any event, or for practicing icing and decorating techniques. They can be added as extra layers for a real cake, or stand on their own. In all cases, they are great for saving time and money – baking tens of real cakes can take time and can leave a big hole in your pocket. It is also a great tool for beginner bakers who want to work on decorating techniques and practice before decorating the real thing – instead of having to bake a cake time after time; they can use a cake dummy instead.

WeCutFoam has been in the foam cutting business for over 12 years, serving the entire U.S. The company specializes in custom made props, signs and display for endless number of industries, including amusement parks, theater and movie sets, dimensional signs, museum displays and more. The company is no stranger to supplying decorations to any events and has expanded now to include cake dummies and fake cakes to its repertoire. WeCutFoam is using its own line of foam cutters that they design and manufacture, thus guarantees the highest quality and precision of the foam cuts. According to the owner, "The fact that we are using our own machinery is a significant advantage. We know that our machines are accurate and precise and therefore the foam projects that we create are built to perfection".

WeCutFoam has over 12 years experience in customized cutting shapes out of almost any type of foam, acrylic, wood and metal. Our machines include CNC hot wire foam cutters, CNC routers and CNC laser cutters. We cut signs, letters, logos, architectural shapes, sculptures, prototypes, crown molding, packaging material and more. We specialize in creating custom foam props for weddings and events, theater and movie sets, parade floats, museums and theme parks. We provide scanning, sanding, carving, coating and painting services for any project. With our machines we can make full