Custom Built Plastic Pallets Configures Material Handling Solution for VF Corp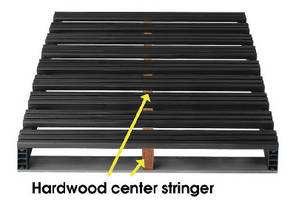 James Fischer, CEO of Jifram Extrusions, Inc,  parent company of Custom Built Plastic Pallets, announced the company's most recent innovative material handling solution for VF Corp, an $11 billion apparel and footwear powerhouse with a diverse international portfolio of brands and products that reach consumers wherever they choose to shop. 



Custom Built Plastic Pallets offered a strategic material handling solution by building a plastic pallet specifically configured for VF Corp's order picking forklifts.



This innovative hybrid pallet is constructed of recycled plastic providing superior strength and durability. To further customize the pallet for VF Corp's order picking operation, a HARDWOOD 2x4 was used for the center stringer rather than the standard plastic stringer. This hardwood stringer provides the perfect connection for the forklift's clamp. This ensures a safe and secure standing platform for the operator while working at various heights within the warehouse.



This combination provides the best of both worlds. The plastic construction will provide years of service. The hardwood center stringer will offer enhanced stability and integrity to handle the additional stress at the point of connection with the forklift.



Jifram Extrusions, Inc., parent company of Custom Built Plastic Pallets, is a plastic extrusions company that produces custom built pallets designed specifically for the needs of each customer that are made from recycled material. Size, number of stringers, number and thickness of deck boards, static weight capacities, use of casters and other accessories are all tailored to provide customized solutions, not a "one size fits all'  pallet.

More from Fluid & Gas Flow Equipment