Cushion Mounting Materials are suited for corrugated printing.
Press Release Summary: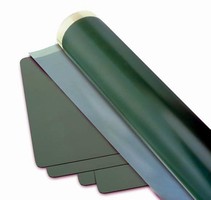 Based on open-cell urethane foam technology, E/bak(TM) cushion mounting materials are used to build thickness on cylinder as well as provide cushioning and absorb vibration in corrugated printing process. Allowing for printing on rough surfaces, they maintain high solid ink density for consistent print results over entire press run. Dark green foam with skin surface is available in 0.040, 0.060, and 0.080 in. thicknesses and is 60 in. wide.
---
Original Press Release:

Rogers Corporation Launches Its New, Economical E/bak(TM) Cushion Mounting Materials for Corrugated Printing at Drupa



GENT, Belgium - [May 7, 2008] - Rogers Corporation (NYSE:ROG) will introduce its new line of E/bak(TM) cushion mounting materials, an economically priced cushioning solution for corrugated post-print applications at the 2008 Drupa Show in Dusseldorf, Germany, May 29 - June 11 (Hall 4, Stand 4E60).

E/bak Cushions, based on Rogers' proven open-cell urethane foam technology, are used to build thickness on the cylinder, as well as provide cushioning and absorb vibration in the corrugated printing process. These resilient cushions provide a high degree of surface conformity with minimal increase in plate pressure.

According to Brett Kilhenny, R/bak Business Manager, Rogers Corporation, "E/bak Cushions are the economic alternative for corrugated printing applications".

Designed to handle easily, E/bak Cushions allow for printing on rough surfaces while eliminating gear banding and press bounce. Added benefits also include decreasing plate wear and increasing plate life while reducing fluting and board crush at increased line speeds. This value performance corrugated cushion continues to provide standard quality print results, lower dot gain, and maintains high solid ink density, allowing for consistent print results over the entire press run. They reduce operating costs by helping to eliminate problems on press with fewer press adjustments.

E/bak SF (supported firm) material is designed on 0.010" PET (0.254mm) film carrier and is cast to thickness, not buffed. This polyester support layer ensures dimensional stability and acts as a mounting base. The foam is dark green in color and has a skin surface. It is available in three standard thicknesses - 0.040" (1.02mm), 0.060" (1.52mm), and 0.080" (2.03mm) - and produced 60 inches (1524mm) wide. Designed for use on general purpose corrugated applications of line and solid work with some simple combination screens, E/bak Cushions are the alternative cushion for mid-range print quality jobs.

Rogers' E/bak materials are available worldwide through an extensive network of knowledgeable distributors. For more information, please visit www.rogerscorporation.com/rbak.

About Rogers Corporation

Rogers Corporation (NYSE:ROG), headquartered in Rogers, Conn., is a global technology leader in the development and manufacture of high performance specialty material products for a variety of applications in a wide range of markets including: portable communications, consumer products, communication infrastructure, ground transportation, and aerospace and defense. Most of the Company's products are covered by trade secrets or patents. Rogers operates manufacturing facilities in Arizona, Connecticut, and Illinois in the U.S., in Ghent, Belgium and in Suzhou, China. Asian sales offices are located in Japan, China, Taiwan, Korea, India and Singapore. Rogers has joint ventures in Japan and China with INOAC Corporation, in Taiwan with Chang Chun Plastics Co., Ltd. and in the U.S. with Mitsui Chemicals, Inc. The world runs better with Rogers.® www.rogerscorporation.com

More from Mechanical Power Transmission