Curtiss-Wright and Geospectrum Technologies Collaborate on New Lightweight Sonar System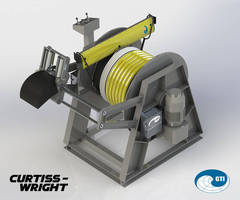 New TRAPS (Towed Reelable Active Passive Sonar) system is an innovative Antisubmarine Warfare solution designed specifically for smaller surface ships and USVs



UDT (UNDERSEA DEFENCE TECHNOLOGY) ASIA - SINGAPORE – (Booth #17) – Curtiss-Wright's Defense Solutions division has announced that its INDAL business unit is collaborating with GeoSpectrum Technologies (http://geospectrum.ca) to develop a new compact and lightweight sonar system designed for the smaller surface ship and Unmanned Surface Vehicle (USV) markets. The TRAPS (Towed Reelable Active Passive Sonar) system will deliver a unique, high-performance Antisubmarine Warfare (ASW) solution to the undersea warfare marketplace. Based on its reduced size and weight, TRAPS will be the first towed active/passive sonar system to enable smaller navies, such as those operating frigates, corvettes, coastal patrol vessels, and ships of opportunity, to perform effective ASW operations. Unlike towed sonar systems that require heavy and complex launch and recovery equipment, TRAPS is the first reelable towed system that features a vertical active source combined with a high performance passive towed array, all handled "in-line" on a lightweight and easy to use winch system.



"Curtiss-Wright is excited to be working with GeoSpectrum Technologies to develop this innovative new high performance ASW system," said Lynn Bamford, Senior Vice President and General Manager, Defense Solutions division. "The unprecedented weight and size reduction provided by the TRAPS system demonstrates Curtiss-Wright's leadership in providing innovative shipboard handling solutions."



About the TRAPS System

The TRAPS system is ideal for use in a variety of critical applications, including submarine detection for smaller surface combatants in a containerized package (mission configurable) that can be deployed on both existing vessels and new builds. It can be deployed as a permanent installed ASW system for new ship construction (especially smaller combatants) or as a permanent installed ASW system retrofit on existing ships with minimal impact and cost.



Sales inquiries: Please forward all sales and reader service inquiries to Andrew Roy (aroy@curtisswright.com) or Geoff Lebans (geoff.lebans@geospectrum.ca).



For more information on Curtiss-Wright Defense Solutions products, please visit www.curtisswrightds.com.



For more information on GeoSpectrum Technologies products, please visit www.geospectrum.ca.



About Curtiss-Wright Corporation

Curtiss-Wright Corporation is a global innovative company that delivers highly engineered, critical function products and services to the commercial, industrial, defense and energy markets.  Building on the heritage of Glenn Curtiss and the Wright brothers, Curtiss-Wright has a long tradition of providing reliable solutions through trusted customer relationships. The company employs approximately 9,000 people worldwide.



About GeoSpectrum Technologies Inc. (GTI)



GeoSpectrum specializes in underwater acoustic transducers and systems, and supplies its products to the oil and gas, defence and surveillance and environmental sectors. With its acquisition of sonar processing software company, Akoostix Inc., GTI is now a leading provider of specialized surveillance software for a variety of applications, including military sonar (multistatic-active, passive, mine hunting and torpedo detection), and the company is positioned to provide integrated, end to end sonar systems.





More from Chemicals & Gases