Electrical Sensors / Detectors / Transducers
Current Transducers monitor machine current usage.
Press Release Summary: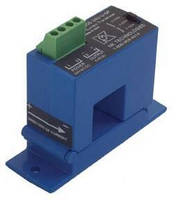 With open collector transistor frequency output design, ATQ Series is used as input to high-speed counter or frequency PLC modules, panel meters, or programmable relays, to monitor machine current usage to within ±1% of range. Multiple ranges from 0-2 to 0-200 A are available to meet needs of particular applications. Split-core enclosure facilitates installation by eliminating need to disconnect monitored conductor to install sensor.
---
Original Press Release:

Achieve Accurate, Cost-effective Machine Current Monitoring with New ATQ Series Current Transducers from NK Technologies



Patented frequency output design enables users to efficiently monitor machine current usage with lower cost logic controllers or programmable relays

SAN JOSE, CA - NK Technologies introduces ATQ Series Frequency Output Current Transducers. With a patented open collector transistor frequency output design, the ATQ series is used as an input to high speed counter or frequency PLC modules, panel meters or programmable relays, to accurately monitor machine current usage to within ± 1 percent of range. Multiple ranges from 0-2 to 0-200 amps are available to provide resolution that fits the needs of the particular applications. A split-core enclosure simplifies installation by eliminating the need to disconnect the monitored conductor to install the sensor. The ATQ series are intended for use where no analog inputs are available.

"Users will benefit from jumper-selectable ranges, along with reduced inventory requirements because with the ATQ series a single sensor is able to satisfy a wider variety of range needs. These current transducers also eliminate insertion loss, and the output of each unit is magnetically isolated from the input to maximize safety," says Philip Gregory, President, NK Technologies.

The ATQ series is well suited for use in motion and motor control applications such as pump, grinder and fan motor monitoring status, belt jam sensing in conveyor applications and motor control in deburring / brush operations. They are also effective as an electronic shear pin to detect strain. Additionally, ATQ current transducers are ideal for measuring current use in machine tools, polishing and cutting operations where a small PLC has sufficient capacity to accept the sensor inputs measuring speed, time-of-use and electrical demands of the equipment.

ABOUT NK TECHNOLOGIES

Founded in 1982, NK Technologies designed the first the low-cost solid-state current sensing technology that underlies the industry today.

Today NK Technologies is a leading provider of current sensing, ground fault detection and power monitoring products to the industrial and factory automation markets, with a product portfolio that includes more than 1300 models to satisfy a wide range of specific application needs. As the needs of these markets change, NK Technologies is well-positioned to respond with sophisticated new product designs and improved product functionality necessary to meet those applications.

NK Technologies, 3511 Charter Park Drive, San Jose, CA 95136; 800.959.4014; fax: 408.871.7522; sales@nktechnologies.com; www.nktechnologies.com.

More from Test & Measurement