Current Sensors/Transformers measure wide range of currents.
Press Release Summary: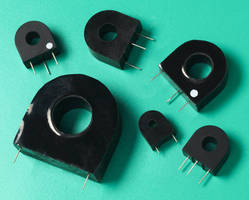 By accurately transforming them from high to low measurable values, 5300 series measures range of AC currents. Current sensors have primary current range of 3.5–800 A and come in several types of current transformers, including low phase/high accuracy and high frequency. Current transformers have 20–100 kHz operating range and can be totally encapsulated, with or without wound primary turns and loading resistor. All products are built to meet relevant UL, ANSI, VDE, CE, and MIL standards.
---
Original Press Release:

API Technologies' New Family of Current Sensors/Transformers Measure a Wide Range of Currents



ORLANDO, FL -- API Technologies Corp. (NASDAQ:ATNY) ("API" or the "Company"), a trusted provider of RF/microwave, microelectronics, and security solutions for critical and high-reliability applications, today announced the availability of its new 5300 series of current sensors and transformers that measure a wide range of AC currents by transforming them accurately from high to low measurable values.



API's 5300 series current sensors feature a wide primary current range of 3.5 Amps to 800 Amps, and are available in several types of current transformers, including low phase/high accuracy and high frequency. Current transformers have a wide operating frequency range of 20 kHz-100 kHz and can be totally encapsulated, with or without wound primary turns and loading resistor. All current sensors and transformers are built to meet the relevant UL, ANSI, VDE, CE, and MIL standards. In addition, API also offers EMRL current transformers which were designed to comply with standards for electrical and electronic measuring test equipment.



"API's current sensors and transformers are commonly used in applications such as advanced fault tolerant computers and workstations, metering, protective relays, control panels reading current flowing to electric transformer, ampmeters, wattmeters and cross current compensation, as well as telecom and communications," said Renee Fletcher, Product Manager, Electromagnetic Integrated Solutions, API Technologies.



Current sensors detect electrical current in a wire and generate a signal proportional to it, which is then utilized to display the measured current, or stored for further analysis in a data acquisition system. Similarly, current transformers are used to measure alternating electric currents. When current in a circuit is too high, a current transformer produces a reduced current that is accurately proportional, so it can be conveniently connected to measuring and recording instruments.



"API Technologies also specializes in creating solutions that satisfy magnetic requirements for a variety of applications," added Fletcher. "The API Magnetics group combines its Filtran and RTI Electronics brands with state-of-the-art technology and advanced engineering to produce a broad range of custom, application-specific magnetic devices."



As a key supplier to many of the world's leading OEMs in the military, aerospace, medical, telecom, transport, commercial/consumer and industrial lighting and industrial/test markets, API Technologies' Magnetics products address many of the industry's most stringent requirements, including many MIL, ANSI and ISO certifications, including MIL-PRF-27, MIL-STD-981, UL 60950-1, and UL 61010-1.



To learn more about the API Technologies' Magnetics product line, please visit eis.apitech.com, call +1 (888) 553-7531 or email sales@apitech.com.



About API Technologies Corp.:

The Company, through its subsidiaries, designs, develops and manufactures electronic systems, subsystems, RF and secure solutions for technically demanding defense, aerospace and commercial applications. API Technologies' customers include many leading Fortune 500 companies. API Technologies trades on the NASDAQ under the symbol ATNY. For further information, please visit the company website at www.apitech.com.



For more information, please contact:

Melissa Fisher

Director, Public Relations

+1 908 546 3904

media@apitech.com

More from Fasteners & Hardware