Electrical Sensors / Detectors / Transducers
Current Sensor suits thru-hole PCB assembly applications.
Press Release Summary: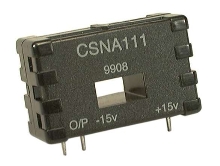 Closed loop, linear current sensor, Model CSNA111 is based on Hall effect principles and null balance or zero magnetic flux method. It provides ac, dc, or impulse current sensing up to 70 A with no limitation on measured current waveform. Thru-hole sensing allows signal to be sensed using non-invasive connection, while rapid response time of less than 1 µs allows output signal to closely track input signal.
---
Original Press Release:

The CSNA111 Current Sensor - Improved Accuracy and Faster Response Time


FREEPORT, Ill., February 16, 2004 - Honeywell Sensing and Control's CSNA111 closed loop linear current sensor has improved accuracy and faster response times than open loop current sensors. A low-cost, high value sensing solution for use in thru hole printed circuit board assembly applications, the CSNA series closed loop sensors have been used for over-current protection in variable speed drives, as part of feedback control systems in frequency converters, and for battery management in uninterruptible power supplies (UPS).

The CSNA111 Current sensor's primary features include:
o ac, dc or impulse current sensing up to 70 amps with no limitation on the measured current waveform
o rapid response time of less than 1 micro second allowing the output signal to closely track the input signal
o thru hole sensing which allows the signal to be sensed using a non-invasive connection
o galvanic/electrical isolation between primary and secondary
o high overload capability which limits the possibility for sensor damage

The CSN Series of closed loop current sensors is based on Hall effect principles and the null balance or zero magnetic flux method (feedback system). The magnetic flux in the sensor core is constantly controlled at zero. The amount of current required to balance zero flux is the measure of the primary current flowing through the conductor, multiplied by the ratio of the primary to secondary windings. This closed loop current is the output from the device and presents an image of the primary current reduced by the number of secondary turns at any time. This current can be expressed as a voltage by passing it through a resistor.

For more information, please contact us at www.honeywell.com/sensing/promo/prcsna or call us at 800-784-3011 (reference code CSNA).

Honeywell International is a $23 billion diversified technology and manufacturing leader, serving customers worldwide with aerospace products and services; control technologies for buildings, homes and industry; automotive products; turbochargers; specialty chemicals; fibers; and electronic and advanced materials. Based in Morris Township, N.J., Honeywell's shares are traded on the New York, London, Chicago and Pacific Stock Exchanges. It is one of the 30 stocks that make up the Dow Jones Industrial Average and is also a component of the Standard & Poor's 500 Index. For additional information, please visit www.honeywell.com. Honeywell Sensing and Control is part of Honeywell's Automation and Control Solutions group, a global leader in providing product and service solutions that improve efficiency and profitability, support regulatory compliance, and maintain safe, comfortable environments in homes, buildings and industry. For more information about Sensing and Control, access www.honeywell.com/sensing

More from Software