Current Sensing Line Expands with Ground Fault Sensors and DC Current Transducers and Switches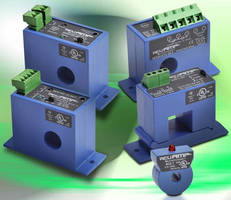 AutomationDirect's acuAMP(TM) line of current sensors now includes AC ground fault sensors and DC current transducers and switches.

The GFS series of ground fault sensors monitors all current-carrying conductors in grounded single and three-phase delta or wye systems. Available in fixed-core models, the GFS series features jumper-selectable setpoints of 5, 10 or 30 mA. The sensors can accommodate up to 14 AWG copper wire and feature mechanical relay outputs with either manual or auto reset. The UL and CE approved GFS series of ground fault sensors start at $136.

The DCT series of DC current transducers combines a Hall Effect sensor and signal conditioner into a single package for use in DC current applications up to 400A. Designed to be compatible with most PLCs, data loggers and SCADA systems, the DCT series features jumper-selectable current input ranges and industry standard 4-20 mA or +/- 10 VDC outputs. Available in split-core or fixed-core models, DCT current transducer prices start at $117.

DCS100 series DC current switches feature jumper-selectable current input ranges up to 100A and are available in normally-open solid-state and SPDT relay output models. The switches are equipped with removable terminal blocks which accept up to 12 AWG solid or stranded wire. Prices for DCS100 DC current switches start at $90.

All acuAMP sensors are panel-mountable; convenient DIN rail adaptor accessories are also available.

The complete acuAMP series offers outstanding features, flexibility, and durability. Backed with a five-year warranty, the complete line of current transducers and switches provides dependable service for virtually any application.

See the full line of acuAMP current sensing products at: www.automationdirect.com/current-sensors.

AutomationDirect sells over 10,000 feature-packed products through its Online Automation Superstore and 2,750-page catalog. The company offers its customers high-quality automation products at prices typically below the industry average, same-day shipping on in-stock items, the best documentation in the industry, outstanding sales and technical support, and a 30-day money-back guarantee on nearly every product. For a free catalog, access their Web site at www.automationdirect.com or call 800-633-0405.

More from Controls & Controllers