Current Sense Transformer has low-seated profile of 4.1 mm.
Press Release Summary: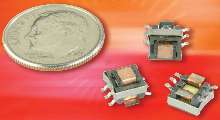 Rated at 20 A in 4.8 mm sq. package, surface-mount CT323 senses current output changes to provide feedback for overload detection, emergency shut-down functions, and power regulation. It has operating temperature range of -55 to +155°C and offers turns ratios from 1:20-1:200. Performing optimally at frequencies of 100 kHz and above, product is manufactured with UL94V0 compliant materials and supports communications and networking applications.
---
Original Press Release:

New 20 Amp Current Sense Transformers Have Low Seated Profile and Wide Operating Temperature Range


Ideal For DC-DC Converter Applications In Telephone Switches, Routers, Bridges and Hubs

ROMOLAND, CA -The new CT323 Surface Mount Current Sense Transformers from Datatronic Distribution, Inc., are rated at a powerful 20 Amps in a sub 5.0mm square package, surpassing the 10 Amp rating now typically available across the industry in this type of device.

With a low-seated profile of 4.1 mm (0.162 inch) and an operating temperature range of -55°C to +155°C, the new CT323 Current Sense Transformers support a wide range of communications and networking applications. They are ideal where compact size, a high power rating and extreme temperatures exist.

The CT323 Current Sense Transformers sense current output changes to provide feedback for overload detection, emergency shut-down functions and power regulation. They support dc-dc converters, especially in routers, bridges, hubs and telephone switching equipment.

The CT323 Current Sense Transformer offers a turns ratios from 1:20 to 1:200 and performs optimally at frequencies of 100kHz and above. Key electrical parameters include an inductance of 100 to 12200mH, a resistance of 0.50 ohms to 33.24 ohms maximum and an isolation voltage of 500 Vrms minimum.

Miniature in size and robust by design, the ultra compact CT323 Series measures only 4.8 mm (0.07 inch) square. The CT323 Series is manufactured with UL94V0 compliant materials. Copper foil on the primary is 10-mil thick for superior performance and reliability.

The CT323 is compatible with high-speed automated pick-and-place assembly and high-temperature soldering equipment. It is available in tube as well as tape-and-reel packaging. Custom designed transformers can be specified to meet unique circuit requirements.

In typical production volume, the CT323 Series is priced from $0.69 each. Lead-time is stock to six weeks. Volume OEM pricing is available upon request.

Datatronic manufactures transformers, inductors, ADSL transformers, LAN filter modules and many other magnetic devices in standard off-the-shelf as well as custom
packages. For further information, contact Datatronic Distribution Inc., 28151 Highway 74, Romoland, CA 92585, or telephone toll free 1-888-889-5391, or 909/ 928-7700 or fax 909-928-7701. Email Datatronic at ddisales@datatronics.com or visit the website at www.datatronics.com

Contact: Randy Brown Tel: 909-335-1941 Fax: 909-335-1948 Email: brownr@rbmarketing.com

More from Communication Systems & Equipment