Current Sense Resistor utilizes metal foil technology.
Press Release Summary: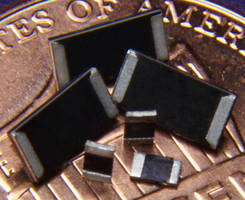 Comprised of chip type resistors, TLRH series features carrier metal plate constructed with metal alloy. Integrated metal foil technology promotes corrosion resistance as well as ability to withstand elevated temperatures. Designed for current detection, series offers resistance range of 10-250 mW and TCRs of ±75 ppm/K and ±50 ppm/K with tolerance of 1%. Resistors come in sizes 0805, 2010, and 2512 and power ratings of 0.25, 1, and 2 W.
---
Original Press Release:

KOA Speer Introduces New Metal Foil Technology for the TLRH Series Current Sense Resistor



Bradford, PA - KOA Speer Electronics announces the release of a new metal foil technology in chip type current sense resistors that improves corrosion resistance and its ability to withstand higher temperatures. The TLRH series resistor has a carrier metal plate now constructed with a new metal alloy, improving performance and reliability.

The TLRH series chip type resistors are designed for current detection, offering an ultra low resistance range between 10mΩ ~ 250mΩ. These high performance current sense resistors have a T.C.R. of ±75ppm/K and ±50ppm/K, with a tolerance of 1%. The TLRH series are available with power ratings of 0.25W, 1W and 2W, and sizes 0805, 2010 and 2512.

KOA Speer's TLRH series is designed for a wide range of applications, including: automotive, computer, telecommunications, medical, and power supplies industry such as desktop PC, laptop PC, mobile PC and converter power supplies.

Pricing ranges from $0.50 to $0.60 and is dependent upon specifications and quantity. Please contact KOA Speer for more information.

About KOA Speer:
KOA Speer Electronics, an ISO 9001:2000 and TS-16949 certified company, has served the electronics industry since 1980. KOA Speer's wide range of products includes thick and thin film resistors, current sensing resistors and resistor arrays; thermal sensors, fuses and varistors for circuit protection; wire wound, multilayer, power and thin film inductors; ceramic capacitors and ferrite bead EMI/EMC filters; and diodes, LTCC's and modules. The company has introduced over 200 new products in the past few years.

KOA Speer Electronics is an affiliate of KOA Corporation, whose global presence includes corporate headquarters in Japan, a European sales office and twenty-four manufacturing facilities located throughout the Pacific Rim. The KOA Speer product family of surface mount and leaded passive components is ideal for diverse markets including telecommunications, computers, automotive, consumer and industrial controls.

For more information, contact:
Dawn McGriff
KOA Speer Electronics, Inc.
199 Bolivar Drive
Bradford, PA 16701
(P) 814-362-5536 ext.336
(F) 814-362-8883

www.koaspeer.com

-or-

Tim Glass
Altman-Hall Associates
235 West Seventh Street
Erie, PA 16501
(P) 814-454-0158
(F) 814-454-3266

www.altman-hall.com

More from Computer Hardware & Peripherals