Current Sense Resistor suits automotive applications.
Press Release Summary: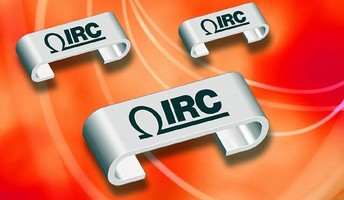 Featuring bimetallic construction with welded copper terminals, OARS-XP Series current sense surface mount resistors have wide metal alloy resistive element. Open air design allows air flow under resistive element to prevent excess heat transmission to PC board. Operating between -40 and +125°C, unit offers resistances values from 2-50 mW, tolerances of ±1% and ±5%, and inductance values of less than 10 nH. Lead-free and zero ohm jumper versions are also available.
---
Original Press Release:

IRC's Surface Mount Open Air Resistor Specified for Current Sensing in Automotive Applications



Unique form factor provides higher current rating with enhanced thermal management...

MUNICH, Germany (November 14, 2006) - Providing automotive design engineers with a power current sense surface mount resistor with enhanced thermal characteristics, TT electronics IRC Wire and Film Technologies Division has developed a wider version of their open air current sense resistor with a higher power rating than conventional metal element resistive devices. Designated the OARS-XP Series, the resistor features a wider metal alloy resistive element that offers exceptional TCR ratings and superior thermal compliance.

According to David Winkler, product manager at IRC's Wire and Film Technologies Division, the OARS-XP Series' unique form factor provides automotive designers with several advantages. "The wider resistive element enables higher current to pass through the device," said Winkler, "and the open air design provides a far cooler operation by allowing more air flow under the resistive element to keep excess heat from being transmitted to the PC board."

In addition, the unique form of the product provides the inherent ability to flex slightly and provide stress relief during extreme temperature cycling on typical or metal substrates, Winkler continued.

The OARS-XP Series resistor is being specified for applications involving window lift motors, fuel pump systems, seat belt pretensioners, and pulse width modulator feedback.

Resistance value for the resistor ranges from 2mW to 50mW, with standard tolerances of ±1% and ±5%. Inductance values are less than 10 nanohenries, with operating temperature ranging from -40°C to +125°C. IRC will also produce devices outside these specifications to meet customer requirements. Lead-free RoHS-compliant and zero ohm jumper versions are also available.

The OARS-XP Series devices also feature bimetallic construction with welded copper terminals that aid in solderability and resistance measurement reliability.

Typical pricing for the OARS-XP Series resistors is $0.40 each in 1,500 piece per reel quantities. Lead time is 14 weeks.

For additional information on IRC's OARS-XP Series resistors or to discuss design options, contact the TT electronics IRC Wirewound and Film Technologies Division at 828-264-8861,via mail at 736 Greenway Road, Boone, N.C. 28607, e-mail at waftsales@irctt.com, or visit IRC on the web at www.irctt.com.

In the U.K. contact Welwyn Components at +44-1670-822181; email info@welwyn-tt.com or visit the Welwyn Web site at www.welwyn-tt.com. In Germany, contact TT electronics at +49-8161-49-08-0; visit www.tt-electronics.de or email information@tt-electronics.de. In France, contact TT France at +33-1-45-12-38-80; visit the Web site www.ttelectronics.fr or e-mail sales@ttelectronics.fr. In Italy, contact TT S.r.l. at +39-026-888-951; visit ttelectronics.it or e-mail info@ttelectronics.it.

IRC Inc. is a leading international manufacturer of advanced film, metal glaze and wirewound resistive products with facilities in Corpus Christi, Texas, Boone, N.C., Smithfield, N.C., and Barbados. IRC is part of TT electronics plc, a global electronics company manufacturing a broad range of advanced electronic components, assemblies and sensor modules for the automotive, telecommunications, computer and aerospace markets. TT electronics' Web site can be found at: www.ttelectronics.com.

Keywords: TT electronics, IRC, OAR-XP, resistor, open air, current-sense, surface mount, automotive

URL: www.irctt.com/pages/SMTcurrentsensors.cfm

For more information, contact:
David Winkler
Product Manager
+1-828-264-8861
david.winkler@irctt.com

More from Electrical Equipment & Systems