Current Sense Resistor Kits aid design engineers.
Press Release Summary: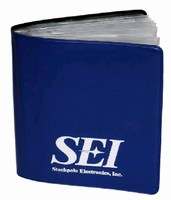 Enclosed in handheld binder, CSKA Kit provides widely used current sensing resistance values. It includes thick film CSRN Series, foil on ceramic CSRF Series, and metal foil CSNL Series. Available in EIA standard sizes of 0805, 1206, 2010, and 2512, kit includes values from 5-800 mW in 1% tolerance. CSKL kits feature CSNL and CSRF technologies, which provide values down to 1 mW in 1% tolerance and come in EIA standard sizes of 2010 and 2512.
---
Original Press Release:

Stackpole Electronics, Inc. Introduces Surface Mount Current Sense Resistor Kits



RALEIGH, NC (September 11, 2007) - Stackpole Electronics, Inc. today introduced their new compact current sense resistor kits to aid design engineers. Enclosed in a small, handheld business card like binder these new current sense kits offer the most widely used current sensing resistance values. These kits will be a valuable resource to engineers during the design phase of many types of power supplies and other current sensing applications.

The CSKA kits incorporate the all three technologies currently available from Stackpole including the thick film CSRN series, the foil on ceramic CSRF series, and the metal foil CSNL series. The CSKA kit type is available in EIA standard sizes including 0805, 1206, 2010, and 2512. Values included in the kits range from 5 milliohm to 800 millohm in 1% tolerance.

The CSKL kits feature the metal foil (CSNL) and metal foil on ceramic (CSRF) technologies. These two series provide very low ohmic values down to 1 milliohm in 1% tolerance and in EIA standard sizes of 2010 and 2512.

Stackpole Electronics, Inc. current sense kits have 25 pieces of each of the 25 most widely used resistance values for the CSKA kits, and 25 pieces of each of the 20 most popular ultra low values for the CSKL kits. The CSKL kits are ideal when the sensing design requirements demand the performance of a solid metal element as opposed to a film resistive element.

Current sense resistors are widely used for different types of power supplies, power control circuitry, battery management and voltage regulation. They are also widely used in many automotive control systems such as the small motor controls used for power windows, power seats and wiper motors. Other types of electronic products using current sense resistors are appliances and other white goods, power tools, test and measurement equipment, signal analyzers and electronic meters and scales.

Most of the standard kits will be available from stock. Customized kits are also available, with the leadtime depending on the values requested. Please contact factory for further details.

For more information about Stackpole products, contact Stackpole Electronics, Inc. at 2700 Wycliff Road Suite 410, Raleigh NC 27607; phone 919-850-9500; fax 919-850-9504; email marketing@seielect.com; or visit the Web site at www.seielect.com.

Stackpole Electronics Inc. is a leading global manufacturer of resistors supplying to the worlds largest OEMs, contract manufacturers and distributors. Headquartered in Raleigh, N.C., the privately held company began manufacturing in 1928 as part of Stackpole Carbon Company in St. Mary's, Pennsylvania. Now affiliated with Akahane Electronics, Stackpole has manufacturing facilities in Japan, Taiwan, China and Mexico; warehousing facilities in El Paso, Hong Kong and Japan; and sales offices in Tokyo, Hong Kong and Taiwan.

More from Electrical Equipment & Systems