Current-Sense Amplifier delivers wide-input common-mode voltage.
Press Release Summary: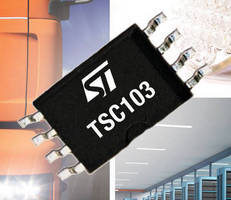 Allowing direct measurement of current in power lines operating up to 70 V, Model TSC103 aids design of power management, monitoring, and safety equipment. Device accepts common-mode input from 2.9-70 V and offers selectable output gain of 20, 25, 50, and 100 V/V. Common-mode input can also be set from -2.1 to 65 V in dual-supply configurations. Operating from -40 to 125°C, IC has adjustable sensitivity that allows use in 24 V vehicle systems, 48 V telecom equipment, and solid-state lighting.
---
Original Press Release:

STMicroelectronics Enhances Current Sensing for Improved Control, Efficiency and Safety



High-side current-sense amplifiers deliver wide-input common-mode voltage range for applications up to 70V

Geneva, - STMicroelectronics (NYSE: STM), a world leader in ICs for sensing and control, has unveiled a chip that simplifies the design of power management, monitoring and safety equipment by allowing direct and accurate measurement of current in power lines operating at up to 70V.

Accurate current measurements are essential when managing the delivery of power in various automotive, telecom and industrial systems. The information can be used to optimize power consumption or to identify faults such as a failed power supply or jammed motor, which can cause excessive current to flow. Current is usually sensed using a series shunt resistor and a network of traditional amplifiers, an approach that complicates design, imposes high power losses and limits accuracy.

The TSC103 is the latest in ST's family of high-side current-sense amplifiers, which simplify design by connecting directly to power-supply lines at high voltages. This approach requires only a small sensing resistor and consumes less power than the conventional solution. The TSC103 accepts a common-mode input from 2.9V up to 70V and measures current more accurately than similar competing devices. The common-mode input range can also be set from -2.1V to 65V in dual-supply configurations, with outstanding stability of the accuracy versus common-mode voltage. The output is proportional to the measured current and can be connected directly to the analog input of a microcontroller.

In addition to the TSC103, ST has also introduced the TSC1031, featuring enhanced EMI filtering to maintain performance in electrically noisy environments. Both devices have adjustable sensitivity that allows their use in diverse applications, such as 24V vehicle systems, 48V telecom equipment, multi-LED display backlights, or solid-state lighting. The devices are fully ESD specified for rugged performance and they can operate from -40°C to 125°C.

Major features of TSC103/TSC1031:

2.7V to 5.5V operating supply voltage

Selectable output gain: 20V/V (TSC103 only), 25V/V (TSC103 only), 50V/V, 100V/V
Maximum 360-microamp current consumption

2.9V to 70V common-mode input range

-2.1V to 65V common-mode input range in dual-supply configuration

-16V to 75V common-mode surviving range, to withstand reverse-battery and load-dump conditions

The TSC103 and the TSC1031 are available in industry-standard SO8 and miniature TSSOP8 packages and are priced from $0.96 for sample quantities in industrial grade and $1.12 for automotive- grade devices. Alternative pricing options are available for larger quantities.

About STMicroelectronics

STMicroelectronics is a global leader serving customers across the spectrum of electronics applications with innovative semiconductor solutions. ST aims to be the undisputed leader in multimedia convergence and power applications leveraging its vast array of technologies, design expertise and combination of intellectual property portfolio, strategic partnerships and manufacturing strength. In 2009, the Company's net revenues were $8.51 billion. Further information on ST can be found at www.st.com.

More from Electronic Components & Devices