Curiosity Mars Rover Has Landed Safely on Mars!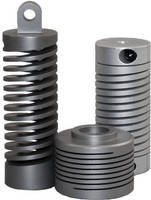 Helical Products Company, Inc. is proud to have been selected to design and manufacture machined springs and flexible couplings for Curiosity. Known worldwide for outstanding quality and reliability, this is the third Mars Rover combining Helical's Engineering Expertise and manufacturing skill to produce

The first of the parts from Helical is a custom flexible coupling used in the Vibration mechanism in the Sample Acquisition & Sample Processing and Handling (SASPaH) subsystem at the end of the Robotic Arm. The system is now responsible for gathering soil samples from inside the crater where Curiosity sits right now. Vibration is used, aided by the flexible coupling, to pass the soil sample through sifters and ultimately through a sampling system. We can then determine what elements are present in the soil on Mars.

In addition to the flexible coupling, Curiosity is also equipped with several Helical Machined Springs. The springs were used as a locking latch in the rocket deploys pivot mechanism. The springs rotated and locked in place keeping the Rocker-Bridge joints in place once the mars rover was in the process of landing. NASA had very specific design requirements including; compression and lateral translation spring rates, end attachments, and titanium material for its lightweight characteristic. Application engineer, Michael Haber, adds, "With this design, we've created a very reliable and elegant solution. The double-start Flexure adds redundancy and confidence that the spring will operate the latch. The spring also showcases the advantages of Helical Products technology to combine a number of components and features into one part which further increases reliability - a major concern for the Mars Rover especially since parts won't be serviceable." The design worked! And will help the Mars Rover explore the red planet for a long time.

Helical Products was founded in 1958 and is the originator the HELI-CAL® Flexure, making bar stock flexible. Located in Santa Maria, California, the company's manufacturing facility has tripled in size since 1983. Because of its excellent quality, Helical Products has become the standard for improving performance capabilities in today's manufacturing world.

For more information contact Helical Products Company, Inc., P.O. Box 1069, Santa Maria, CA 93456. Toll Free (877)353-9873, Fax (805)928-2369, Web site: www.Heli-Cal.com.