Curiosity: A Great Achievement for FUTEK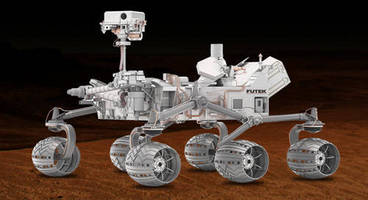 On August 6, 2012, history was made and dreams were achieved as NASA JPL's MSL Mars Rover Curiosity set down upon the Martian soil. This touchdown not only marked a rebirth for the NASA program, but an enormous accomplishment for all partners involved with this mission. Landing Curiosity was by no means an easy feat. But more importantly, it was not an individual effort. Alongside the brilliant minds of NASA JPL and NASA MSL were dozens of partners, commissioned, qualified and relied on for the success of this mission. And FUTEK was one of those partners.



Perhaps FUTEK's CEO, Javad Mokhbery, best described this honor when saying, "A composer inspires and masterfully scripts a symphony. A conductor passionately assembles the perfect orchestra. But the success of a memorable performance heavily depends on reliable and well-crafted instruments, developed and supported by esteemed silent partners. With the successful and impressive landing of Mars Science Laboratory's Curiosity, FUTEK is beyond proud and overwhelmingly honored to be a continuous silent partner of NASA, providing sensor solutions with faith, fire and focus."



FUTEK has had the privilege of working with NASA on several occasions, participating in programs such as Orion and the International Space Station iLIDS. However, nothing quite compared to working on Curiosity. The reality that FUTEK would have two operating sensors on a neighboring planet seemed, well, out-of-this-world. But that reality came true.



Many of FUTEK's team members have admired NASA and their efforts in exploring the unknown. Some have even dreamt of working alongside them. But the awe associated with working on a rover equipped for Mars went beyond their wildest dreams. Thus, when FUTEK was commissioned by NASA JPL a little over three years ago to develop two space/flight qualified cryogenic sensors for the rover, the team was ecstatic.



Responsible for monitoring the force of the drill bit that will penetrate the Martian soil, as well as monitoring the maneuvers of the rover's drilling arm itself, FUTEK's team of engineers, operators, quality assurance personnel, and technicians worked diligently to provide NASA JPL with the most reliable test and measurement feedback system.



Summed up perfectly by Program Manager John Vargas is the spirit that drove FUTEK throughout their design and development of these two sensors: "How great is my job? We get to help give NASA a sense of what is going on, on Mars!"



And though this project took close to three years, this spirit within FUTEK did not falter. Director of Engineering, Richard Walker said this of FUTEK's participation in the rover's success: "It is still surreal to believe that our countless hours of manufacturing, testing and inspections of the sensors are really on Mars and will be providing critical feedback in this mission. These emotions of pride and excitement are not far behind getting married and having children."



It's true. Countless hours of design, development and quality inspections went into these two sensors. FUTEK's Director of Quality Assurance inspected each sensor as it passed from machine shop to lamination to wiring to calibration. This keen attention to detail is what, in fact, established FUTEK's relationship with NASA many years ago.



"The success of the Mars Rover Curiosity is one of the proudest accomplishments of the FUTEK Quality Assurance Team that worked so diligently with the engineering and production teams here at FUTEK. This was a truly collaborative effort with the Quality Assurance Team integrated into the production effort, ensuring the quality of the sensors at every step along the way," said Thomas Bowles, Director of Quality Assurance.



Over the next few weeks, as Curiosity begins to utilize its robotic arm and its drilling mechanism, the FUTEK Team will watch in anticipation as their sensors operate upon the rover. All in all, this mission marks an achievement of epic proportions for FUTEK. Each member of their team has every right to beam with pride knowing that they were an instrumental part of the successes of Curiosity.



More from Electrical Equipment & Systems