Cultec Stormwater Chambers Save Time and Money at Shopping Center Site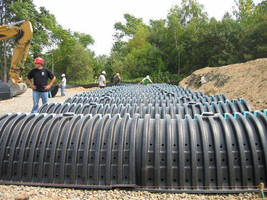 BROOKFIELD, CT - When planning began for a new, 47-acre shopping center in Milford, Connecticut, CULTEC Inc. stormwater chambers were strongly considered, as the decision-makers were already familiar with the products' design and benefits through previous projects.  So, the company's plastic stormwater chambers were specified for Clean Water Act compliance, but offered several more advantages along the way.  



The future site of Milford Crossing is conveniently located off of Route 1 in Milford, Connecticut.  The large complex will be anchored by Wal-Mart, with other large retailers such as Bob's Stores, HomeGoods, Barnes Noble and Starbucks also on board.  With an estimated completion date of early 2007, work began on the site in 2005.



When completed, the shopping center will have nearly six acres of paved parking lots.  Clean Water Act Phase II regulations require that these impermeable surfaces are counteracted by a stormwater Best Management Practice (BMP) that can prevent stormwater runoff from polluting nearby water resources. 



Cherry Hill Construction, the excavation contractor, installed the approximately 1, 900 chambers creating four beds on the site.  CULTEC's Recharger 330 HD stormwater chambers were chosen for cost effectiveness and ease of installation.  The chambers' purpose was two-fold — first, to filter the run-off and second, to store the stormwater prior to it being infiltrated into the ground. 



"My workers and I appreciated the quick and simple installation of the chambers," said Sebert Dotson, site manager for Cherry Hill Construction.  "The amount of area you can cover is tremendous and you can get the job started and finished quickly.  This kept my labor costs to a minimum."



With a design capacity of over 400 gallons, CULTEC's Recharger 330 HD is one of the largest chambers available.  It is designed to store large amounts of water while saving land space and offering design flexibility.  The polyethylene chambers are durable, yet lightweight and can be installed by one or two workers resulting in reduced labor costs and time.  These advantages make CULTEC chambers a more efficient and cost-effective alternative to above-ground options such as ponds or swales and traditional underground stone and concrete pipe systems. 



CULTEC's plastic chambers are dome-shaped with perforated sidewalls and fully open bottoms to allow for maximum infiltration capability.  The chambers are available in standard- and heavy-duty, and are used in are Clean Water Act compliant applications.



For more information on CULTEC products, call 800-4-CULTEC or visit www.cultec.com. 



CULTEC, Inc., headquartered in Brookfield, Connecticut, is a national manufacturer of plastic chambers for stormwater and septic applications, as well as header and stormwater filter systems.  CULTEC currently offers more types of chambers and a variety of sizes than any other chamber manufacturer.  The company's Recharger® and Contactor® chambers are used extensively in Clean Water Act applications, and utilize strong polyethylene material, patented interlocking rib and fully-formed endwall to achieve long life and durability.



More from Computer Hardware & Peripherals