CUI Presents New CMM Series Digital and Analog MEMS Microphones That are Omnidirectional
Press Release Summary: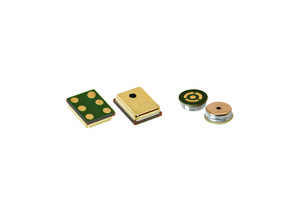 The CMM Series MEMS Microphones are offered in 2.75 x 1.85 x 0.95 mm compact footprints with sensitivities ranging from -44 up to -26 dB. The devices are suitable for audio recording and voice capture in smart phones, tablets, smart home devices and wearables. The units can be operate in -40 up to +105°C temperature range and features a signal to noise ratio (57 up to 65 dBA). The microphones provide reduced vibration sensitivity and draw current down to 80 µA.
---
Original Press Release:
Digital and Analog MEMS Microphones Added to CUI's Audio Product Group
TUALATIN, Ore. — January 8, 2019 — CUI's Audio Group today announced the introduction of a comprehensive line of MEMS microphones ideal for a range of portable electronic devices. Boasting improved audio quality, performance, and reliability, CUI's CMM series is housed in extremely compact, low profile footprints measuring as small as 2.75 x 1.85 x 0.95 mm. As reflow solder compatible components, these MEMS microphones will afford designers additional flexibility where surface mount assembly is required, making them well suited for audio recording and voice capture in smart phones, tablets, smart home devices, wearables, and more.
CUI's MEMS microphones are omnidirectional and available in analog or digital pulse density modulation (PDM) output types with top or bottom port locations. Offering round or rectangular form factors, the CMM series models carry sensitivity ratings from -44 up to -26 dB and signal to noise ratios from 57 up to 65 dBA. These MEMS microphones also deliver reduced vibration sensitivity, low current draw down to 80 microamps (µA), and wide operating temperature ranges from -40 up to +105°C. With tight sensitivity tolerances as low as ±1 dB, the CMM series is a perfect fit for array applications used to perform functions such as beam forming and noise cancelation. A unique inner chamber construction also provides more stable performance and gives these silicon-based microphones added protection against moisture and dust.
The CMM series is available immediately with prices starting at $0.45 per unit at 1000 pieces through distribution. Please contact CUI for OEM pricing.
Summary
Product name: MEMS Microphones
Availability: Stock to 6 weeks
Possible users: Smart phones, tablets, smart home devices, portable electronics
Primary features: Compact, low profile packages, reflow solder compatible
Cost: $0.45 per unit at 1000 pieces through distribution
View details for CUI's MEMS microphones
About CUI Inc
CUI is an electronic components manufacturer specializing in a diverse range of product technologies. As a leader in power electronics, the organization supports customers as they strive to improve the energy efficiency and environmental credentials of their application. The company's interconnect, audio, motion and thermal management groups provide engineers with reliable and proven solutions across a range of market segments as technology allows the world to connect in new ways. An unwavering commitment to the design engineer has been a hallmark of CUI's sustained growth since its founding in 1989 and will continue to be the primary mission as they expand their product technologies, manufacturing capabilities and global reach.
CUI Inc is a subsidiary of CUI Global, Inc., a publicly traded company whose common stock trades on the NASDAQ Exchange under the symbol CUI.
Media contacts
CUI Inc
Reid Hornberger, +1 503 612 2300, rhornberger@cui.com, twitter.com/cuiinc
Publitek
Rachel Sandeman, +44 (0)1225 470 000, rachel.sandeman@publitek.com, www.publitek.com