CUI Now Offers AC-DC Power Supplies That are Complaint to IEC 62368-1 Standards
Press Release Summary: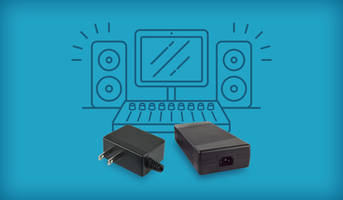 The AC-DC Power Supplies are designed for ICT and AV equipment. CUI offers power supplies ranging from 3 W to 250 W in wall plug-in, multi blade, and desktop versions with IEC 62368-1 standard compliance. The units meet US DoE Level VI and the EU's voluntary CoC Tier 2 standards.
---
Original Press Release:
CUI Upgrades External Power Supply Line to Meet New IEC 62368-1 Standard
TUALATIN, Ore. — October 2, 2018 — CUI's Power Group today announced that it has upgraded the majority of its external ac-dc power supplies to the new IEC 62368-1 standard for ICT and AV equipment. Set to supersede the outgoing IEC 60950-1 and IEC 60065 standards on December 20, 2020, IEC 62368-1 will introduce fundamentally different guidelines based on hazard-based safety engineering principles. This means that IEC 62368-1 is more significant than a simple merger of the two standards and represents an important transition for designers of ICT and AV equipment.
Similar to the past standards, IEC 62368-1 will apply not only to the end system, but also to components such as external power supplies. CUI's newly compliant line ranges from 3 W to 250 W in wall plug-in, multi blade, and desktop versions, all available with a variety of dc output plug options. The models also meet the latest global efficiency standards, including US DoE Level VI and the EU's voluntary CoC Tier 2 requirements.
"CUI's mission is to provide our customers with products and tools that prepare them for the latest safety regulations and industry standards," stated Jeff Schnabel, VP of Global Marketing at CUI. "This is why CUI has upgraded many of our power supply models to 62368-1 well ahead of the December 2020 deadline, while further developing resources such as our IEC 62368-1 whitepaper to keep customers informed," Schnabel concluded.
View CUI's IEC 62368-1 certified models
Learn more about IEC 62368-1 in CUI's whitepaper
About CUI Inc
CUI is an electronic components manufacturer specializing in a diverse range of product technologies. As a leader in power electronics, the organization supports customers as they strive to improve the energy efficiency and environmental credentials of their application. The company's interconnect, audio, motion and thermal management groups provide engineers with reliable and proven solutions across a range of market segments as technology allows the world to connect in new ways. An unwavering commitment to the design engineer has been a hallmark of CUI's sustained growth since its founding in 1989 and will continue to be the primary mission as they expand their product technologies, manufacturing capabilities and global reach.
CUI Inc is a subsidiary of CUI Global, Inc., a publicly traded company whose common stock trades on the NASDAQ Exchange under the symbol CUI.
Media contacts
CUI Inc
Jeff Schnabel, +1 503 612 2300, jschnabel@cui.com, twitter.com/cuiinc
Publitek
Rachel Sandeman, +44 (0)1225 470 000, rachel.sandeman@publitek.com, www.publitek.com
More from Fasteners & Hardware