Cube-Shaped Sunshade protects process instrumentation.
Press Release Summary: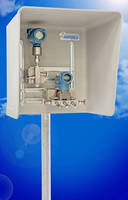 Providing 165 L capacity shaded environment, 600 x 550 x 500 mm CubeShade lets plant engineers shield equipment from solar radiation. This single-part protective cover, which can accommodate multiple instruments, has structural side walls, is constructed from glass fiber reinforced sheet molding compound (SMC), and is resistant to UV as well as corrosion from salt and common petrochemicals. Degree if thermal conductivity helps prevent heat from being transferred to shaded area.
---
Original Press Release:

Cube-Shaped Process Instrumentation Sunshade Lowers the Costs of Field Protection



Sarnia, Ontario, Canada --- Intertec has launched a large cube-shaped sunshade for process instrumentation. It provides plant engineers with a highly cost-effective means of shielding equipment such as electronic monitoring systems, explosion-proof junction boxes or analyser installations from solar radiation. Dubbed CubeShade, the protective cover measures 600 x 550 x 500 mm (HxWxD). This provides a massive 165 litre capacity shaded environment that make it easy to accommodate and protect large or multiple instruments, as well as simplifying maintenance access.



The new sunshade design is manufactured using an automated moulding process and offers a particularly economic solution for this common application. Most process instrument sunshades on the market are relatively small and are often targeted at single instruments or small-scale field equipment installations. If Intertec needs to provide solar protection for larger installations – such as two or three process transmitters – sunshades are usually created to suit the specific application by building up multiple layers of glass reinforced polyester (GRP) in a custom mould to achieve the necessary thickness. This manually-intensive process can increase costs significantly. And if the number of sunshades required runs into hundreds – which is common for greenfield projects – the extra costs can be high.



Intertec's new CubeShade is constructed entirely from glass fiber reinforced sheet molding compound (SMC). This combines chopped glass fibers, fillers, polyester resin and a catalyst in the form of a ready-to-mould composite that is ideal for low cost, high volume manufacturing. The material has similar advantages to GRP for this type of application, including a high resistance to UV and corrosion from salt and common petrochemicals, and a low thermal conductivity, which helps to prevent heat generated by solar radiation being transferred to the shaded area. It also combines excellent rigidity and mechanical strength – for protection against impact – with a very low weight.



CubeShade's single-part design and SMC-based construction facilitates production using automated molding techniques. As standard, the body of the sunshade is 5 mm thick but incorporates 8 mm thick reinforcing ribs around the rim and down the back of the unit. These ribs also help to channel rain and melt-water run-off.



Unlike many instrument sunshades on the market which essentially consist of a single top shade that only protects against overhead sun, Intertec's design incorporates structural side walls that also shade low-angle sun, as well as providing partial protection against rain, snow, wind-chill, blown dust or sand and accidental impact.



Intertec believes CubeShade is the largest SMC instrument sunshade on the market. The design is also suitable for use with equipment such as explosion-proof junction boxes or distribution units and is likely to prove especially popular for new-build processing plant projects.



CubeShade can be mounted on a standard two-inch pipe stand, or attached directly to walls or steel structures. It is also available in an electrically-conductive antistatic version.



www.intertec.info



For more information please contact Phil Luppke at:

Intertec Instrumentation Ltd

255 Henry Drive

Sarnia, Ontario N7T 7H5, Canada

t: +1-888-875-8756

info@intertec-inst.com



Intertec Instrumentation Inc.

11116 West Little York, Building 1

Houston, Texas 77041, USA

t : 832 243 0790

info@intertec-inst.com

More from Construction Equipment and Supplies