Cube Beamsplitters target uncollimated light sources.
Press Release Summary: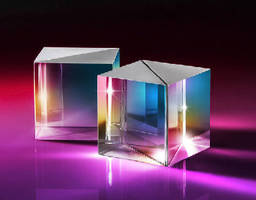 With wire grid polarizer cemented between 2 right angle prisms made of N-BK7 substrate, Wire Grid Polarizing Cube Beamsplitters are designed for applications using uncollimated light, including broadband white light sources. Anti-reflection coating is applied to each face of beamsplitter, which provides less than 0.5% average reflection per surface. Maintaining spectral contrast from 400–700 nm over cone angle of +25°, beamsplitters provide greater than 75% transmission of P-polarized light.
---
Original Press Release:

Wire Grid Polarizing Cube Beamsplitters Ideal for Uncollimated Light Sources



High contrast over large angles of incidence



Barrington, N.J. –  Edmund Optics® (EO), the premier provider of optical components, introduces Wire Grid Polarizing Cube Beamsplitters. These versatile beamsplitters are designed for applications using uncollimated light, including broadband white light sources.



Wide angle of incidence range without performance loss



Wire Grid Polarizing Cube Beamsplitters are constructed using a wire grid polarizer cemented between two precision high tolerance right angle prisms made of a N-BK7 substrate. An anti-reflection (AR) coating is applied to each face of the beamsplitter, which provides less than 0.5% average reflection per surface. Further, Wire Grid Polarizing Cube Beamsplitters maintain their high spectral contrast from 400-700 nm over a large cone angle of +25°. 



Greater than 75% transmission of P-polarized light



Wire Grid Polarizing Cube Beamsplitters provide greater than 75% transmission of P-polarized light and an efficiency (Tp*Rs) of greater than 65% for a cone angle of +25°. These beamsplitters are ideal for a wide variety of applications including Heads Up Display, Interferometry and Spectrocsopy.



25.4 mm size available



RoHS compliant Wire Grid Polarizing Cube Beamsplitters measure 25.4 mm square. They are in-stock and available for immediate delivery for fast turnaround and excellent value.



About EO:

Edmund Optics® (EO) is a leading producer of optics, imaging, and photonics technology for R&D, electronics, semiconductor, pharmaceutical, biomedical, and military markets around the globe. EO is the world's largest supplier of off-the-shelf optical components. Customers can purchase items by contacting EO at 1-800-363-1992, via the catalog, or via the website at www.edmundoptics.com



Company Contact:

Kirsten Bjork-Jones

Director Global Marketing Communications

Edmund Optics®, Inc.

101 East Gloucester Pike

Barrington, NJ 08007 U.S.A.

Phone: 1-800-363-1992

Fax: 1-856-573-6295

email: kbjork-jones@edmundoptics.com



European Contact:

Agnes Huebscher

Director European Marketing

Edmund Optics

Zur Giesserei 8

76227 Karlsruhe, Germany

Tel.:   +49 (0)721-62737-38

Fax:   +49 (0) 721 6273750

E-Mail:   AHuebscher@edmundoptics.de

More from Packaging Products & Equipment