CTI Would like to Announce that We Can Repair/Replace Any Cyclone; Including 30", 33", and 40" HM Cyclones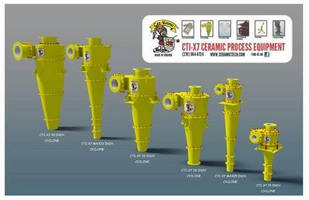 We have full arrangement of replacement Classifying Cyclones with tub assemblies that benchmark CTI-X7 Ceramic Process Equipment.  This international brand has a thirty year performance standards as of this past March 23rd.



We are also able to covert rubber lined cyclones to ceramic lined.  We guarantee accuracy and improved performance to meet or exceed prior performances.  We assure you a quick turnaround using American Made Parts and Service.



Please contact your sales engineer for options we offer for replacement/rebuild.  We look forward to working with you and your team.



About Cermaic Tech



Ceramic Technology, Inc. tracks 28 years of innovative standards, designs, and manufacturing procedures to meet demanding delivery schedules for coal and coal fired capital expansion needs of coal and mineral mining industries.



In 2010, the company was granted a US Patent as well as an Australian and Canadian patent for the CTI Sam-1 Static Pre-feed Screen.  The Sam-1 Screen Arrangement has a proven performance and is now the proven brand, representing a technology shift that saves millions of dollars for the mining industries



From their engineering and manufacturing facility located in Southwest Virginia, CTI services customers across the US and into Western Canada, meeting the needs of clients, distributors, and customers in coal, potash, and gold mining industries.



Now recognized as a consistent performance brand, CTI continues to support expansion by the manufacturing of ceramic systems equipment targeting a 20:1 baseline return on customer investment that will improve customer production cost.



Ceramic Technology Inc. focuses on superior performance solutions as to abrasion and wear replacement.  CTI adheres to an underlying core belief that through improvements to mining process procedures, we will encourage talent of the present and future generations to engage in improved technology creating an improved operational process and performance.



For more information on CTI or the implementation of their new website, www.ceramictech.com, please contact Lee Osborne, President,  at lee@ceramictech.com, or Sam Sanders, Vice President, at ssanders@ceramictech.com.



Ceramic Technology Inc.

606 Wardell Ind. Park Rd.

Cedar Bluff, Va. 24609

Phone: 276-964-6724

Mobile:  276-701-7594

Fax:  276-964-2936

Email:  lee@ceramictech.



More from Controls & Controllers