CSA Certified VFD Cable meets Canadian Standards Association requirements.
Press Release Summary: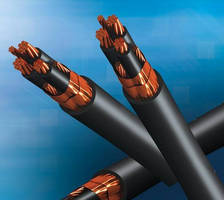 CSA Tray-rated VFD cable accommodates motor-to-drive connections, noise-sensitive applications requiring shielded power cable, and other solid-state power supplies with variable frequency needs. Decreasing effects of common mode current containment, capacitive coupling, and reflected wave voltage, cables range from 14-4/0 AWG and contain 3-stranded BC circuit conductors with 3 symmetrical BC grounds and 2 spiral copper tape shields. PVC jacket is resistant to effects of UV and oil.
---
Original Press Release:

Belden's CSA-Tray-Rated VFD Cable Provides Economical Cabling for Variable Frequency Applications in Canada



VFD Cable from Belden outperforms other cabling options for variable frequency applications

St. Louis, Missouri - Belden Inc., (NYSE:BDC), a global leader in signal transmission solutions for mission-critical applications, announces its new CSA Tray-rated VFD (Variable Frequency Drive) cable. Conforming to Canadian Standards Association requirements, this VFD cable is an economical but robust solution for motor-to-drive connections, noise sensitive applications requiring shielded power cable and other solid state power supplies with variable frequency needs. Belden's CSA Tray-rated VFD cable decreases the effects of common mode current containment (CMC), capacitive coupling and reflected wave voltage, and is proven to outperform other types of cabling used for VFD including unshielded cables and other constructions that are susceptible to noise emissions, high-frequency impedance or capacitance coupling.

Cables range from 14 to 4/0 AWG and contain three-stranded BC circuit conductors with three symmetrical BC grounds and two spiral copper tape shields. XLPO cross-linked polyolefin insulation and a UV- and oil resistant PVC jacket provide protection and durability for harsh environments. Target industries include: HVAC institutional, power generation, oil & gas, water/wastewater, alternative energy, automotive, machine building and food & beverage.

The cable provides multiple benefits when installed including symmetric bare grounds, shield termination directly at the drive, with RW90 circuit conductors. Symmetric bare grounds reduce the likelihood that high frequency currents will seek alternate routes back to the drive because these grounds tie the current carrying copper foil shield to the drive. Shield termination directly at the drive reduces opportunities for noise release in the enclosure by reducing unshielded cable exposure. RW90 circuit conductors reduce the energy required to charge the cable and also can reduce reflected wave voltages because of their high dielectric and low capacitance. Individual motor lead set shielding prevents capacitive interaction with other cables and reduces capacity charging currents. Belden CSA Tray-Rated VFD cable is compatible with economical connectors and cable glands from all major manufactures with application suitable ratings.

Belden VFD cable reduces installation cost and labors because it does not require conduit. The TC-rated cable also saves costs associated with moving equipment later because, unlike conduit, it does not need to be reinstalled.

Certified for use in Canada, this VFD cable has received the following ratings: CSA C22.2 #230 for tray cable, CSA C22.2 #38 for thermoset insulated wires and cable, CSA FT-4 and IEEE 1202/383 for vertical tray flame test and CEC Part 1 for suitability in hazardous locations. The cable is RoHS compliant, CE approved and has an RW90 conductor rating.

For more information on Belden's CSA Tray-rated VFD cable, download Product Bulletin 339, visit our website at www.Belden.com or call 1-800-BELDEN-1 (1-800-235-3361).

Belden, Belden Sending All The Right Signals and the Belden logo are trademarks or registered trademarks of Belden Inc. or its affiliated companies in the United States and other jurisdictions. Belden and other parties may also have trademark rights in other terms used herein.

About Belden

St. Louis-based Belden Inc. designs, manufactures, and markets cable, connectivity, and networking products in markets including industrial automation, enterprise, transportation, infrastructure, and consumer electronics. It has approximately 6,800 employees, and provides value for industrial automation, enterprise, education, healthcare, entertainment and broadcast, sound and security, transportation, infrastructure, consumer electronics and other industries. Belden has manufacturing capabilities in North America, South America, Europe, and Asia, and a market presence in nearly every region of the world. Belden was founded in 1902, and today is a leader with some of the strongest brands in the signal transmission industry. For more information, visit www.belden.com.

Contact:

Chris Daulton

765-983-5324

Chris.Daulton@belden.com

Barbara Kline, Breakthru Communications

505-899-5878

bkline@breakthrucom.com

Related