Crystallizer produces high copolymer polyesters.
Press Release Summary: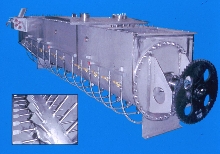 Under Water Crystallizer is designed for continuous, large-scale processing of sticky, slow-to-crystallize copolymer pellets that tend to agglomerate between glass transition point and final crystallization point. Water provides heat transfer and promotes uniform heating of pellets while lubricating pellets to keep them from sticking or agglomerating.
---
Original Press Release:
Hosokawa Bepex Introduces New Crystallizer for Production of High Copolymer Polyesters

MINNEAPOLIS -- Hosokawa Bepex has recently commercialized its patented Under Water Crystallizer for continuous, large-scale crystallizing of high copolymer polyesters. The new unit is designed to process sticky, slow-to-crystallize copolymer pellets that have a tendency to agglomerate between the glass transition point and the final crystallization point.

"The crystallization rate for copolymers is very slow and pellets remain tacky for a longer time," says Chuck Stock, Product Specialist- Polymer Group. "Our Under Water Crystallizer suspends the pellets in hot water and gently agitates them with paddles connected to a rotating shaft. This method has proved superior to either pneumatic or mechanical agitation using direct or indirect heating, as both these methods allow agglomeration or pellet deformation."

Water is an excellent heat transfer medium that promotes very uniform heating of the copolymer pellets. At the same time, it lubricates the pellets to keep them from sticking or agglomerating. The temperature of the water is held above the crystallization temperature and below the melting point of the copolymer, resulting in a very economical process.

Hosokawa Bepex has installed a pilot-scale Under Water Crystallizer at its testing center in Minneapolis, MN, where customers can test processes or determine optimum running conditions prior to system purchase and installation. Results from these pilot production processes can then be scaled up to commercial-sized systems.

Hosokawa Bepex is a single-source provider of integrated powder and particle processing systems for size reduction, agglomeration, compaction, drying, briquetting, thermal processing, blending and mixing. The company's equipment brands include Bepex, K-G, Rietz, Schugi and Strong-Scott. Hosokawa Bepex is a member of the Hosokawa Micron Group, an international provider of equipment and technology for powder and particle
processing, plastics processing and confectionery products. For more information, contact: Hosokawa Bepex, 333 NE Taft Street, Minneapolis, MN 55413. Phone: 612-331-4370; Fax 612-627-1444. Visit the web site at: www.bepex.com.


More from Test & Measurement