Crystal Oscillators draw less than 2 mA at 3.3 V.
Press Release Summary: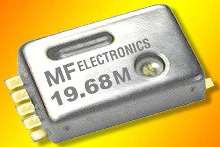 ER Series Temperature compensated crystal oscillators provide time and temperature stability for monitoring and telemetry in harsh environments. They feature low power consumption, low jitter, and are suitable for portable and mobile wireless use. Oscillators meet GPS positioning needs and are available for 3.3 or 5 V operation. ER Series maintains ±2.5 ppm frequency accuracy over -30 to 70°C temperature span with dimensions of 11.4 x 9.6 x 2.5 mm.
---
Original Press Release:
ER Series Temperature Compensated Crystal Oscillators

ER Series Temperature compensated crystal oscillators (TCXOs) provide superior time and temperature stability for long-term
monitoring/telemetry in harsh environments, also cover factory floor reference needs. Low power consumption and very low jitter are ideal for portable and mobile wireless use; meet GPS positioning needs

Overview

March 18, 2003-MF Electronics, New Rochelle NY, announces the ER
family of temperature compensated crystal oscillators (TCXOs). The oscillators draw less than 7 milliwatts at 3.3V, making them ideal for battery powered portable and mobile applications, and as stable reference source for process controls. Superior time and frequency stability qualify the TCXOs for extended duration monitoring/telemetry in a wide range of environments. With user-selected frequency between 10 MHz and 20 MHz, and ultra-low phase noise, the TCXOs meet wireless base specifications and qualify for GPS positioning use.

See data sheet at www.mfelectronics.com/PDFs/ER.pdf.

Electrical Specifications

Surface mount ER Series TCXOs develop user-specified 10 MHz to 20 MHz output frequency. The oscillators develop clipped sinewave output, permit mechanical and electrical frequency trimming of ±3ppm ±4 ppm respectively. The electrical frequency adjustment enables output frequency to track a user's reference. The oscillator maintains exceptionally low jitter (phase noise) of -125 dBc/Hz at 1 kHz offset. The new oscillators are available
for 3.3V or 5V operation, and draw less than 2 mA (<7 mW) at 3.3V. Long-term aging is typically less than ±1 ppm/year. The ER Series oscillators maintain ±2.5 parts-per-million frequency accuracy over the -30°C to +70°C temperature span.

The TCXOs are based on hi-Q quartz crystals for low jitter and
excellent frequency stability. The oscillators are available on tape and reel for automated circuit board assembly. Dimensions are 11.4 x 9.6 x 2.5 mm. Surface mount form factor makes for an easy manufacturing solution.

Contact * Delivery * Price

Surface mount TCXOs are available from MF Electronics Corp. 10
Commerce Drive, New Rochelle, NY 10801

Contact: (Sales)-Call sales department

Tel: (800) 331-1236

Fax: (914) 712-2290

email: sales@mfelectronics.com

http://www.mfelectronics.com

Delivery: Stock to 6 weeks.
Price: From $24 (1 - 9). (Varies with frequency)
More from Sensors, Monitors & Transducers