Crystal Oscillator is suited for mobile communications.
Press Release Summary: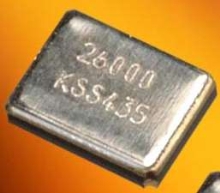 Manufactured in 2.5 x 2.0 x .45 mm ceramic package, lead-free, surface-mount CX-2520SB provides re-flow compatibility for mobile communications, Bluetooth, and wireless LAN applications. Product resonates at frequencies from 26,000-60,000 MHz and features motional series resistance of 100 ohm @ 26,000-34,999 MHz and 50 ohm @ 35,000-60,000 MHz with load capacitance of 8 pF. Frequency tolerance is ±10 ppm @ 25°C and operating temperature range is -30 to 85°C.
---
Original Press Release:

Lead-Free Crystal Oscillator from AVX Designed For Mobile Communications


Surface mount component ideal for telecommunication applications...

Myrtle Beach, S.C. (March 17, 2005) - AVX Corporation is now offering an ultra-small crystal oscillator designed for telecommunication systems. Designated the CX-2520SB, the surface mount crystal oscillator contains a ceramic package that offers high reliability with repeatable performance in a compact package.

Resonating at a frequency range of 26,000-60,000 MHz, the CX-2520SB oscillator provides re-flow compatibility for mobile communications, Bluetooth and wireless local area network applications. The lead-free, RoHS-conforming oscillator has motional series resistances of 100ohm at 26,000-34999MHz and 50ohm at 35,000-60,000MHz with a load capacitance of 8pF.

"We developed this oscillator with the design engineer in mind," said Kio Ariumi, AVX product manager. "Designers continue to be pushed to miniaturize their products with increased functionality and reliability. With the CX-2520SB oscillator, AVX supports their design efforts in meeting these difficult design requirements."

Measuring 2.5mm by 2.0mm (±0.1mm), the .45mm (±0.1mm) thick crystal oscillator has a frequency tolerance of ±10ppm at 25°C and an operating temperature range of -30 to 85°C.

Typical pricing for the CX-2520 crystal oscillator starts at $1.00/each for 1,000 pieces and $.70 for 10,000 pieces.

For more information on the CX-2520SB crystal oscillator contact AVX Sales & Marketing at 843-946-0414, by fax at 843-448-1943, or at www.avx.com on the Web.

AVX Corporation is a leading international supplier of passive components and connectors with worldwide manufacturing facilities, offering the world's broadest selection of passive electronic components and connectors. The company is traded on the New York Stock Exchange (NYSE: AVX).

More from Material Processing