Crystal-Based Oscillators offer high frequency stability.
Press Release Summary: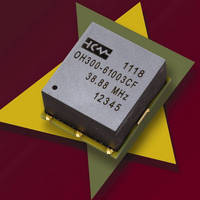 Featuring 5-40 MHz frequency range, IEEE 1588 compliant OH300 series OCXOs are offered with frequency stabilities of ±10, ±20, and ±50 ppb. They are available with LVCMOS, HCMOS of Sine output, along with electronic frequency tuning, and also feature low phase noise and phase jitter. Units operate from 3.3-5.0 Vdc, while power requirements are 3 W over commercial temperature range and 4.5 W over industrial temperature range. All are contained in surface-mounted, 22 x 25 x 12.7 mm package.
---
Original Press Release:

Connor-Winfield's New IEEE 1588 OCXO Provides Excellent Frequency Stabilities and Aging



Aurora, IL - Connor-Winfield's new high stability SMD OH300 series of OCXOs provide an excellent capability to support IEEE 1588 system requirements. This SC crystal based design maximizes short term stability, frequency stability over temperature and extremely low aging rates. Offering standard frequencies like 5M, 10M, 12.8M, 13M, 19.44M, 20M and 20.48M, this model can be configured to provide exceptional performance for short term stability to the level 5x10 -12, stability over temperature of 1x10-9 and daily aging rates of 5x10-10. Package size is 22x25x12.7mm.

The OH300 series is available with LVCMOS, HCMOS of Sine output along with electronic frequency tuning. Power requirements are 3W over the commercial temperature range and 4.5W over the industrial temperature range. The high stability OH300 series oscillators are exceptionally precise frequency standards, excellent for use in IEEE 1588 systems, Synch E, cellular base stations, Stratum 3E, VSAT and test equipment applications.

Features and Configurations

o Frequency Range: 5 to 40 MHz

o OCXO Fixed Frequency

o OCVCXO Voltage Controlled Frequency

o 3.3 VDC to 5.0 VDC Operation

o Available Frequency Stabilities:

±10 ppb

±20 ppb

±50 ppb

o Available Temperature Ranges:

-0 to 70°C

-20 to 70°C

-20 to 75°C

-40 to 70°C

-40 to 85°C

o Low Phase Noise/Phase Jitter

o CMOS Output Logic or Pure Sine

o SMT Package: 22 x 25 x 12.7 mm

o RoHS Compliant/Lead Free

Pricing: $55 at 1K

Connor-Winfield products are designed and produced in the USA.

For more information contact:

The Connor-Winfield Corporation

Tel: 630.851.4722

www.conwin.com

sales@conwin.com

Contact:

Ray Kepka

630.851.4722, x 4224

More from Mechanical Power Transmission