CRYOLINE® CWI CRYOWAVE® Impingement Freezer uses liquid nitrogen.
Press Release Summary: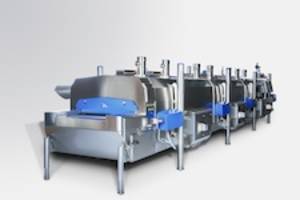 CRYOLINE® CWI CRYOWAVE® Impingement Freezer is suitable for processing meat, poultry and seafood products. Unit offers fully-adjustable motion. Product is ideal for sliced and diced chicken, chicken wings, meatballs, sausages and pizza toppings.
---
Original Press Release:
Linde Introduces Wave-Impingement Freezer at IPPE 2018
Combines Two Technologies to Boost Quality, Yield and Productivity
Linde LLC will introduce the new CRYOLINE® CWI CRYOWAVE® impingement freezer, which combines the benefits of CRYOWAVE product agitation with cryogenic gas impingement flows, at the International Production & Processing Expo (IPPE) in Atlanta, Jan. 30-Feb. 1, Booth #4761.
The patent-pending cryogenic freezer utilizes liquid nitrogen to crust freeze products, locking in moisture and natural food flavor. It is ideal for processing meat, poultry and seafood products, including patties and individually quick frozen (IQF) items such as sliced and diced chicken, chicken wings, meatballs, sausages and pizza toppings.
The inline CRYOLINE CWI freezer can deliver nearly three times the production rate of traditional modular cryogenic freezers, so processors can use it to boost production or save floor space. In addition, Linde's impingement technology can significantly reduce dehydration losses, which can lead to improvements in product weight and overall yield.
"This innovative design combines the leading design attributes of two patented technologies to help processors boost quality, yield and productivity," said Mark DiMaggio, Head of Applications & Marketing, Linde Americas. "It optimizes both the physical motion of products and the flow of cryogen through the freezer, and packs that technology into one compact unit."
Quick Freezing in Motion
Product enters the CRYOLINE CWI freezer on a vibrating stainless-steel conveyor belt which features a patented CRYOWAVE rolling-wave action. The fully-adjustable motion promotes more even freezing, and the vibration helps keep IQF products from sticking to each other or to the belt – a common problem with many IQF freezers. As individual items are gently tossed they are impinged with a high-velocity convective flow of cryogenic gas.
The freezer is hygienically designed so less water and time are required for cleaning, and the top raises vertically to give full access.
Linde LLC supports the Global Food Safety Initiative (GFSI) and the advancement of food safety. Linde has a Food Safety Management System in place for all bulk carbon dioxide (CO2) plants and air separation facilities supplying the food & beverage industry in North America. In June 2012, Linde became the first supplier to certify all of its CO2 plants to a benchmarked GFSI scheme, FSSC 22000 (Food Safety System Certification).
For more information, visit IPPE booth #B4761, or contact Linde (www.lindeus.com), 800-755-9277.
About Linde LLC in North America
Linde LLC is a member of The Linde Group. In the 2016 financial year, The Linde Group generated revenue of USD 17.9 bn (EUR 16.948 bn), making it one of the leading gases and engineering companies in the world, with approximately 60,000 employees working in more than 100 countries worldwide. The strategy of The Linde Group is geared towards long-term profitable growth and focuses on the expansion of its international business, with forward-looking products and services. Linde acts responsibly towards its shareholders, business partners, employees, society and the environment in every one of its business areas, regions and locations across the globe. The company is committed to technologies and products that unite the goals of customer value and sustainable development.
For more information, visit www.lindeus.com
More from Electronic Components & Devices